Estimated read time: 2-3 minutes
This archived news story is available only for your personal, non-commercial use. Information in the story may be outdated or superseded by additional information. Reading or replaying the story in its archived form does not constitute a republication of the story.
Jill Atwood reportingConfessed killer Roberto Arguelles will not be executed the end of this month.
Arguelles is the man who killed several women along the Wasatch front in the 1990's.
But in the last few weeks, issues have been raised once again about his sanity. Case in point, his belligerent behavior this morning in a court.
Once again Arguelles was very uncooperative and out of control this morning, spewing obscenities, and certainly disrespecting all those in the courtroom.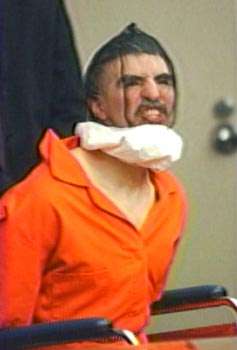 Arguelles was wheeled in the same way he was last month when the death warrant was signed. He had netting over his face to control his spitting and gagging attacks, and he was also handcuffed behind the back. The big question today, is this man competent and of sound mind. Recent discussions in prison between Arguelles and officials have left them with a few questions about his mental state, although Arguelles has already been found competent twice before. He's also been known to turn on the crazy act when people are watching. Still the execution of a man cannot be taken lightly.
Kirk Torgensen/Utah Attorney General's Office: "I THINK THAT CORRECTIONS HAS DETERMINED THERE IS AN ISSUE HERE AND THAT EXPERTS OUGHT TO BE APPOINTED TO DEAL WITH THAT ISSUE AND THAT'S EXACTLY WHAT THEY'VE DONE. I THINK IT'S UP TO THE EXPERTS TO DETERMINE WHETHER OR NOT THIS IS AN ACT OR SOMETHING LEGITIMATE."
Arguelles admitted to raping and killing three teenage girls and a young woman back in 1992, and then burying their bodies. All four were discovered about three years later after Arguelles confessed.
Right now attorneys are in the process of figuring out who will re-evaluate Arguelles. When that will happen is unclear, but again a stay of execution has been ordered for confessed killer Roberto Arguelles.
×
Most recent Utah stories