Estimated read time: 1-2 minutes
This archived news story is available only for your personal, non-commercial use. Information in the story may be outdated or superseded by additional information. Reading or replaying the story in its archived form does not constitute a republication of the story.
Sam Penrod reportingA small plane crash in Idaho has killed two men from Utah County, a father and son.
One of the men was killed in Thursday night's crash, the other died early Friday morning in an Idaho hospital.
Both of the men are from Utah County and took off from the Spanish Fork Airport Thursday on a flight to an airport near Boise, Idaho.
Authorities are identifying the victims as George Peterson and his son Kim Peterson.
Witnesses saw the plane circle the landing area near the mountain community of Atlanta, about 60 miles northeast of Boise.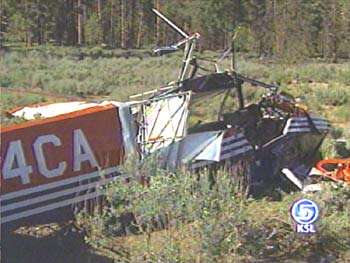 The pilot appeared to abort the landing because he did not have enough room to set the plane down, they said, and as he tried to gain altitude clipped the treetops at the end of the runway and crashed.
Sheriff Rick Layher, Elmore County, Idaho "THIS IS A REAL DIFFICULT LANDING STRIP TO LAND IN. BUT THEY COME IN TOO FAR INTO THE LANDING STRIP IT LOOKED LIKE AND THEN WHEN THEY DID PUT DOWN, THEY SEEMED TO FAR IN AND TRIED TO PULL UP AND AS OTHER ACCIDENTS WE'VE HAD WITH AIRPLANES HERE, THEY PULL IT UP AND THEY TURN OUT AND THEY CLIPPED THE TOP OF SOME TREES"
Sheriff Rick Layher, Elmer County, Idaho "AT THIS PARTICULAR AIRPORT, I THINK IN THE LAST, PROBABLY 10 YEARS, IT'S HAPPENED ABOUT FOUR TIMES"
Authorities say George Peterson who was a passenger in the plane died in the crash. Kim Peterson, the pilot was airlifted to an Idaho Hospital where he died early Friday morning from his injuries.
Federal investigators are at the scene in Idaho looking for clues into the crash.
×
Most recent Utah stories