Estimated read time: 2-3 minutes
This archived news story is available only for your personal, non-commercial use. Information in the story may be outdated or superseded by additional information. Reading or replaying the story in its archived form does not constitute a republication of the story.
John Hollenhorst ReportingThe dust hasn't settled yet from a Salt Lake County decision last week in favor of a new private road, near the mouth of Big Cottonwood Canyon. The critics are fuming. And, may go to court.
The road controversy has been around for years. Now, developers appear to be on the home stretch, but critics claim there was a smelly political deal that makes a mockery of the foothill protection ordinance.
Ordinarily, the county foothill ordinance forbids roads on a slope this steep. But the Board of Adjustment granted three variances and approved a road here anyway.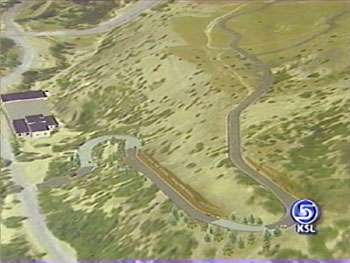 John Johnson/Save Our Canyons: "This creates a terrible precedent. This is a road that will be a huge eyesore to all of the people driving up the canyon. "
Terry Diehl/Developer: "Well I think it's a private property right. And I think everybody has the right to develop their property."
The road would lead to a subdivision proposed on a high plateau overlooking Big Cottonwood Canyon. There would be 46 homes, each a million-dollars-plus. The road would climb a steep embankment behind the city water plant.
The original plan required deep cuts and fills. The new plan instead uses two bridges up to 30 feet high.
Lee Conant/Development Partner: "It's a significantly more expensive road to build. But it will have significantly less impact on the side of the hill."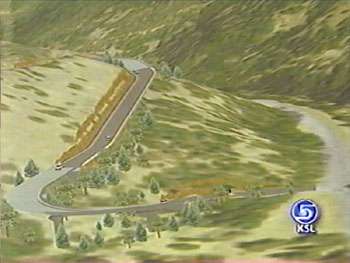 Gale Dick/Save Our Canyons: "I think it's the gutting of the foothills and canyons overlay zone ordinances."
The developers hope to begin construction next spring, but critics are vowing to do everything they can to stop it.
John Johnson/Save Our Canyons: "And I predict that if this road is ultimately built that the citizens of Salt Lake County will be so outraged, it will lead to the defeat of Mayor Workman in the next election."
Critics suspect County Mayor Nancy Workman and Councilman Randy Horiuchi of working behind the scenes to win approval from the Board of Adjustment. Both officials reportedly are closely aligned with developer Terry Diehl.
Terry Diehl/Developer: "Am I friends with them? Yeah, they're my friends. You know, did they have a role in this? The Board of Adjustment is a separate entity and they vote on their own."
Gale Dick/Save Our Canyons: "I don't know for a fact of any such dealings but it certainly doesn't pass the smell test."
Workman and Horiuchi were unavailable for comment, but a top city-planning official told us they applied no pressure at all. He says the ordinance allows variances under certain circumstances. And in this case the Board of Adjustment found the variances were justified.
×
Most recent Utah stories