Estimated read time: 2-3 minutes
This archived news story is available only for your personal, non-commercial use. Information in the story may be outdated or superseded by additional information. Reading or replaying the story in its archived form does not constitute a republication of the story.
Richard Piatt Reporting The Utah Legislature recognized Ogden officer Ken Hammond, as well as Salt Lake officers Andy Oblad, Josh Scharman, Dustin Marshall and Brett Olsen in formal ceremonies today. It was a rare honor for the police officers who were put in a rare circumstance at Trolley Square Monday.
For these officers, facing a gunman is something they train for. Appearing in front of elected officials is something they don't train for, so it was with humility that these officers received their honors today.
Each officer accepted separate official citations from the House and Senate, and a declaration from the Governor. Also, Ogden police officer Ken Hammond accepted the Medal of Honor from his chief, who is also Senator Jon Greiner.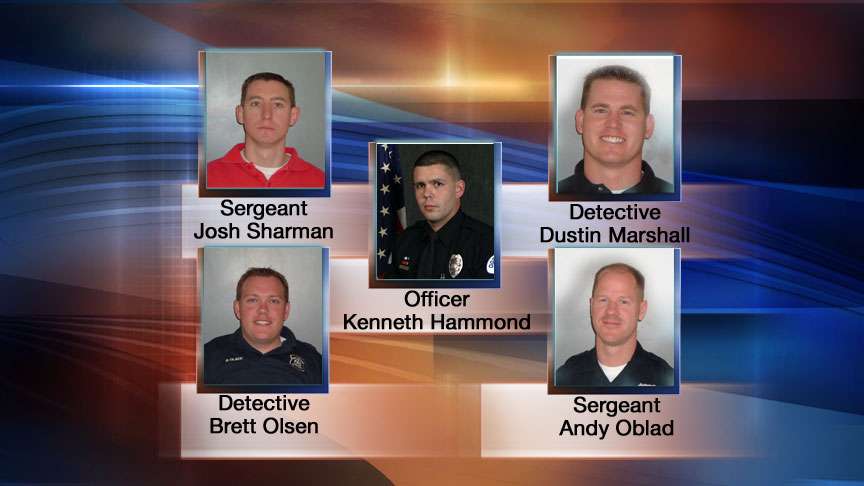 Sen. Jon Greiner (R), Ogden Police Chief: "On behalf of the Ogden Police Department, I'd like to bestow on my officer a Medal of Honor for his courageous acts Monday night. (applause)"
For the officers, the honor is less about them and more about the people who were injured or lost their lives at Trolley Square Monday night. For that reason, this was an emotional event for all who were involved.
Ken Hammond, Ogden Police Officer Honored Today: "I feel bad I didn't react sooner and prevent more loss of lives. But I'm also glad I was there, that I was prepared, and that I took the proper actions."
It is clear that if Hammond and the officers from Salt Lake City hadn't acted quickly, more people would have been hurt or died at Trolley Square Monday night. And, those officers are also quick to point out that there were dozens of other police officers there that night, who could have been directly involved if the shooting hadn't ended when it did.
They're honored as heroes, but they say they were just doing their job. But it's true, that the test of a good officer is what happens in the face of a crisis.
×
Most recent Utah stories