Estimated read time: 2-3 minutes
This archived news story is available only for your personal, non-commercial use. Information in the story may be outdated or superseded by additional information. Reading or replaying the story in its archived form does not constitute a republication of the story.
Keith McCord ReportingThrough the years, a lot of things have been discovered floating in the Jordan River, but last night probably took the cake. An alligator was spotted by a young boy. It became quite the attraction on a hot summer night.
When the word spread throughout this neighborhood, 'everybody' came out to see. With flashlights, spotlights, fishing poles and nets, kids and adults--more than 100 strong--, along with animal services officers started running up and down the banks, near California Avenue.
Susan Steffee, S.L. County Animals Services: "Of course we came out to look, because we don't normally get calls for alligators in the river. We thought it might be an iguana, or even a plastic toy, which wouldn't be the first time that's happened."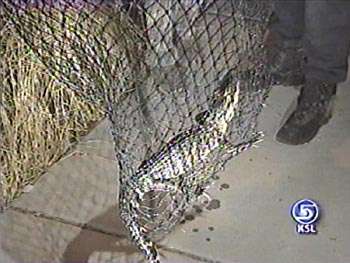 Shortly after 10 pm, the reptile was scooped up in a big net, and taken into custody. It was barely two feet long and only a couple of years old.
The alligator was taken to the Salt Lake County Animal Services offices where he spent Thursday in a large aquarium.
Lt. Troy Wood, Field Supervisor, Animal Services: "He's an American alligator, most commonly found in Florida. And he's an illegal animal. Someone has illegally transported him to the state of Utah."
Utah law prohibits possession or transportation of an exotic animal such as this; it is a misdemeanor punishable with a fine and jail term. Right now, no one knows who dropped this guy into the river last night.
Susan Steffee, S.L. County Animals Services: "They're obviously not indigenous. Our best bet is that somebody had it as a pet, and he either grew too big for the enclosure they had him in or perhaps or bit somebody because they didn't know how to handle him. And they probably just threw him into the river to get rid of him."
This isn't the first alligator that's been discovered in Utah. The game plan now, for this guy is to find him a good home.
Lt. Troy Wood, Field Supervisor, Animal Services: "We have a reptile rescue here in the state of Utah, and they are licensed here in the state to take alligators and they'll export them out of the state to a place where he'll be happy."
And he'll be happy in Texas! It's legal in that state to own them. The man getting it also has a pet store. By the way, this alligator would have been fine in the river for the summer, but definitely would have died come winter.
×
Most recent Utah stories