Estimated read time: 2-3 minutes
This archived news story is available only for your personal, non-commercial use. Information in the story may be outdated or superseded by additional information. Reading or replaying the story in its archived form does not constitute a republication of the story.
Sam Penrod reportingIt's a zoo on the Hollywood Walk of Fame today as American icons get their place in history.
Fans from all over the world turned out for the Osmonds...
With hundreds of fans looking on this morning, the Osmonds drew cheers and excitement on the Hollywood Walk of Fame, getting the red carpet treatment and a permanent place in history.
Together, the Osmond family helped to unveil their star on the Hollywood walk of fame. After more than 40- years in the entertainment business today's star is yet another accomplishment for the well known singing family.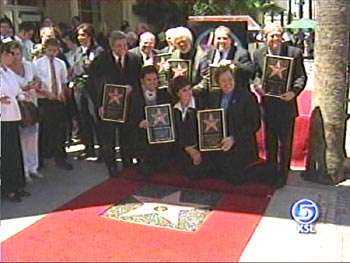 Donny Osmond/Entertainer: "YOU KNOW WHAT'S FUN WE CAN NOW WALK DOWN HOLLYWOOD BOULEVARD AND SEE OUR NAMES BECAUSE WE'VE ALWAYS DONE THAT AND SEEN OTHER STARS NOW WE CAN SEE THE OSMONDS THERE IT'S REALLY COOL.
After the Osmonds got their star they started mingling with their fans, some of them from around the world.
Midori Noriko/Japan: "WE ARE FANS OF THEM ABOUT 30 YEARS AGO, SO WE GREW UP WITH THEM"
Jill Ratcliffe/England: I'VE NOT EATEN FOR THREE MONTHS TO SAVE ALL MY PENNIES IT'S A LONG WAY TO COME BUT IT'S SO WORTH IT
Darlene Ullery/Pennsylvania: I'V'E BEEN AN OSMOND FAN FOREVER AND THIS WAS WAY OVERDUE AND I JUST HAD TO BE HERE, I JUST HAD TO BE HERE
Kristine Sandhop and Elayne Itzenthaler became best friends after meeting 30- years ago at an Osmond concert.The self admitted Osmond groupies made a special trip from Illinois to see the Osmonds again.
Kristine Sandhop & Elayne Itzenthaler, Illinois: IT WAS A GOOD WAY TO GROW UP, KEPT US OUT OF TROUBLE GOOD INFLUENCE GOOD TIMES, GOOD FRIENDS, VERY APPROACHABLE EVEN WHEN THEY WERE SO FAMOUS YOU COULDN'T GET NEAR THEM THEY STILL GAVE US TIME 13
Osmonds meeting with their fans tonight in Los Angeles, in what's being called Os-fest.
×
Most recent Utah stories