Estimated read time: 2-3 minutes
This archived news story is available only for your personal, non-commercial use. Information in the story may be outdated or superseded by additional information. Reading or replaying the story in its archived form does not constitute a republication of the story.
Sandra Yi ReportingA large mudslide nearly buried a home in Bluffdale overnight leaving a family homeless. What caused the slide is still a mystery.
Kirk Rindlisbach, his wife and three children were in their home last night when they heard what sounded like an earthquake. In minutes their home was nearly buried by a mudslide.

Kirk Rindlisbach: "This is one of the last things I expected."
There is about a thousand truckloads worth of dirt in Rindlisbach's backyard. They can now stand on top of about eight feet of dirt that was the family's garage and leaves the onlooker at eye level with the house's roof.
Steve Wanlass, Bluffdale Fire Chief: "It was pretty impressive what Mother Nature can do. It moved a lot of dirt in a real short time…The Jordan River Parkway is now in their backyard."
The city's fire chief says the slide may have been caused by a spring or a canal that saturated the hill.
Steve Wanlass, Bluffdale Fire Chief: "It could have taken just a little jolt, a little shake. It gets that to move and once it starts moving, it's like a lava flow."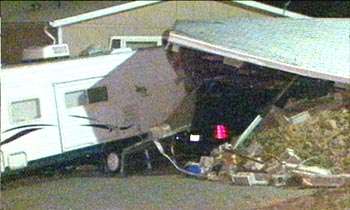 The mud flowed 200 yards nearly burying the Rindlisbach's home. The garage was destroyed and forced a trailer home into the side of the house. Two bedroom walls caved in and the floors buckled.
Kirk Rindlisbach: "It was just like a loud, rumble explosion. I mean the whole house was shaking."
Today the Rindlisbach's are left homeless. They packed their things and plan to stay with friends. They were renting the home and are waiting to hear if insurance will cover the damages. Even with the loss, the family is counting their blessings.
Kirk Rindlisbach: "We were pretty lucky. The only thing that saved us I think from hitting the house directly was the slope of the hill behind us. It kind of pushed it to the left and steered it away from the house or we would have been in big trouble. Even worse than it looks now. It could have been a lot worse than it is."
The fire chief calls the slide a freak occurrence. He says there's no danger but there could be another slide if there's a heavy downpour.
×
Most recent Utah stories