Estimated read time: 1-2 minutes
This archived news story is available only for your personal, non-commercial use. Information in the story may be outdated or superseded by additional information. Reading or replaying the story in its archived form does not constitute a republication of the story.
Sam Penrod ReportingThe parents of a 13-year old boy could face a hefty fine for last week's fire in Provo that burned dangerously close to several homes.
Investigators say the teenager was playing with a lighter and sparked the wildfire. The fire burned about 100 acres last Friday and Saturday, and forced people in an east side Provo neighborhood to evacuate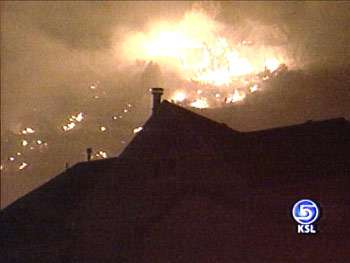 The fast moving flames lit up the hillside in Provo, wind conditions sent the flames into the Sherwood Hills neighborhood. No homes were damaged, but it cost 300- thousand dollars to put the fire out.
Fire investigators say a 13-year old Pleasant Grove boy initially told firefighters he had seen two young children on bikes in the area, but later admitted that he had accidentally started the fire when the dry weeds he was burning spread out of control.
Coy Porter, Provo Fire Chief: "He was making little fires with a lighter he claims he found and he would make small fires, stomp it out. And it doesn't appear he had any intentions of causing the situation that occurred and that's probably why the emotions came out afterwards. Because he was able to see the consequences of his actions."
The boy has been referred to juvenile court for disciplinary action. Because the boy is a juvenile, authorities won't give specifics of his case.But in other similar cases, minors who started fires faced counseling, community service and fines.
It is also possible the Forest Service could come after the boy's parents for the 300-thousand dollars in firefighting costs.
In recent years, the federal government has sent the bill to people responsible for starting other wildfires. A final decision on if that will happen in this case, is not expected for several weeks.
×
Most recent Utah stories