Estimated read time: 2-3 minutes
This archived news story is available only for your personal, non-commercial use. Information in the story may be outdated or superseded by additional information. Reading or replaying the story in its archived form does not constitute a republication of the story.
John Daley ReportingRocky Anderson's record on everything from Main Street to clean air was the primary focus of the first Salt Lake City mayoral debate of the campaign season.
The Mayor draws strong emotions from his supporters and his detractors. Two issues are already emerging as central to this year's race: the mayor's record and his style. Key points also include downtown revitalization, the controversial Main Street Plaza debate, the city's olympic legacy and crime in the city.
All of these are bound to be among the issues that will decide the Mayor's race. But another will be Rocky Anderson's strong personality. Frank Pignanelli has been cultivating the theme that Anderson doesn't play well with others. Today the former state lawmaker and lobbyist said he'll be better at bringing people together.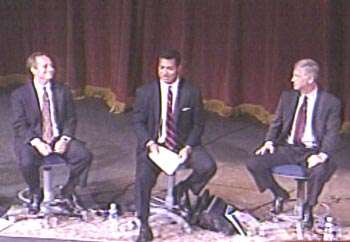 Frank Pignanelli, Candidate for Mayor: "But I'm very concerned about Salt Lake City. We're losing residents; we're losing jobs. We're losing our sense of community. What I bring to this job is my experience. In the state legislature where I brought people together for our city."
The Mayor says to look at his record of accomplishment on everything from the environment to light rail.
Rocky Anderson, Salt Lake City Mayor: "In building a world class mass transit system, in bringing a greater vitality to our downtown area and to our west side, and reducing crime and making this a better city for everyone."
The pair locked horns over the redevelopment of the old Brooks Arcade.
Rocky Anderson: "Before I came into office there was no public request for proposal, no public bid, it was all done behind closed doors and I came in and I said that's not the way for city government to behave."
Frank Pignanelli: "The RFP went out under his administration went out the Monday before thanksgiving and was due the Friday after. Talk about a shortchanging of a process. And it cost taxpayers an extra million dollars and we still have vacant building."
But perhaps the moment of the debate came when businessman Moloni Hola said the West Side needs some TLC.
Molonai Hola, Candidate for Mayor: "I grew up on the west side and I'll tell ya' what the west side needs. They need some love, they need some lovin'. So let's give them what they want. Let's give them a nice plaza."
The field will be narrowed to two candidates in a primary, which happens in October. Then the general election is in November.
×
Most recent Utah stories