Estimated read time: 2-3 minutes
This archived news story is available only for your personal, non-commercial use. Information in the story may be outdated or superseded by additional information. Reading or replaying the story in its archived form does not constitute a republication of the story.
Sandra Yi ReportingGreg Bone, Truck Driver: "In the last couple of months, month and a half, I noticed the winds get nasty around here but nothing like today. Today just scared you to death."
Fast moving storms sweep through Utah, overturning semis, flooding streets, and causing a few headaches for residents.
Utah Power says at the height of the storm the power went out for more than 30 thousand customers. Davis and Weber counties were hardest hit.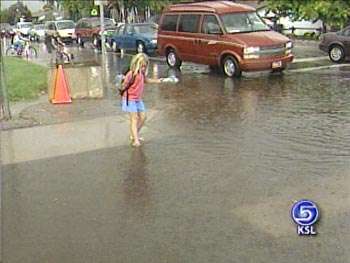 That was just one problem caused by today's severe thunderstorms. Wild, wet weather hit Utah hard today. In Utah County the rain created giant puddles just as kids got out of school. They waded, splashed, even crossed the street barefoot.
The storm caught some people off guard and even flooded parts of 4th West. But it was in Tooele County where the storm did some heavy damage.
Don Gould, Utah Highway Patrol: "We had a small microburst roll through here with winds 50 to 60 miles an hour."
The winds were strong enough to tip over three semi tractor trailers and a cargo trailer on the stretch of I-80 west of Grantsville -- all in about 15 minutes.
Greg Bone, Truck Driver: "I watched the trailer slide around side of me couple of times…Got right here and I just about stopped and all of a sudden I went, poink. Just fell over."
Greg Bone escaped with only a bruise. One driver was taken to the hospital with arm injuries.
Greg Bone, Truck Driver: "It was crazy (laughs). Just scared me. I was scared to death; everything falling over and I'm looking at the black top, laying there looking down."
The accidents caused traffic headaches as both directions of the interstate were briefly shut down. As for Greg Bone, he had this advice for anyone caught in a storm.
Greg Bone, Truck Driver: "Get off the road and park it (laughs)."
Utah Power says 90 percent of its customers will have their power back on by midnight; the others by morning.
One more note, a repair project on northbound I-15 from 106th South to 1700 South has been canceled because of the rain. So if you're traveling in that area tomorrow, you won't see any construction delays. All lanes will be open.
×
Most recent Utah stories