Estimated read time: 2-3 minutes
This archived news story is available only for your personal, non-commercial use. Information in the story may be outdated or superseded by additional information. Reading or replaying the story in its archived form does not constitute a republication of the story.
John Hollenhorst ReportingWith a backdrop of Utah law enforcers in uniform, U.S. Attorney General John Ashcroft defended the Patriot Act as a necessary tool in the battle against international terror.
Ashcroft has been barnstorming across the country facing protestors wherever he goes. Political support for the act has been weakening at both ends of the political spectrum. Critics have labeled the Patriot Act an assault on civil liberties.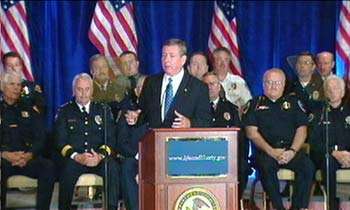 With patriotic music, a bank of American flags and a sea of police uniforms, the Attorney General repeated the carefully staged love-in for America he's putting on in a dozen cities. It was a chance to honor the uniformed domestic troops.
John Ashcroft, U.S. Attorney General: "thanks to you, we are winning the war on terror. (applause)"
The staging also gave Ashcroft a friendly audience of invited guests on an issue that has stirred intense criticism. The Patriot Act, passed in the immediate aftermath of 9-11 gave terror investigators sweeping new powers, including secret searches, surveillance of cell-phones, health and library records and so on. A key ally in passing the Patriot Act was Senator Orrin Hatch.
Sen. Orrin Hatch, R-Utah: "We are without question safer than we were two years ago."
The Attorney General said the controversial police powers preserve life and liberty.
John Ashcroft, U.S. Attorney General: "we've used these tools to prevent terrorists from unleashing more death and destruction on our soil...more than 3000 suspected terrorists have been arrested in countries around the world."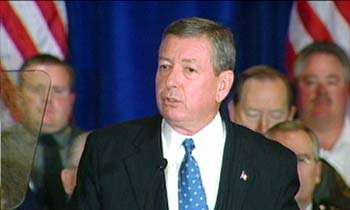 Over the last two years, Ashcroft has ignited a fierce reaction by saying his critics were helping terrorists. KSL asked him about that in a private interview.
John Hollenhorst: "Do you think that an American can be vigorously opposed to your policies and still be a patriot?"
John Ashcroft: "Well, patriotic Americans are entitled to all kinds of opinions. And we in the justice department have a responsibility of making sure they have an environment in which those opinions can be expressed."
The Patriot Act passed by huge margins two years ago, but Congressional support seems to have weakened somewhat in recent months. In spite of that, Senator Hatch is sponsoring bills that would actually increase police powers even more in cases involving drugs and terrorism.
×
Most recent Utah stories