Estimated read time: 2-3 minutes
This archived news story is available only for your personal, non-commercial use. Information in the story may be outdated or superseded by additional information. Reading or replaying the story in its archived form does not constitute a republication of the story.
Sandra Yi ReportingAn explosion outside an elementary school late last night is still under investigation. Fire investigators say some kind of explosive device set inside a dumpster caused the blast and a fire near homes and Canyon Rim Elementary.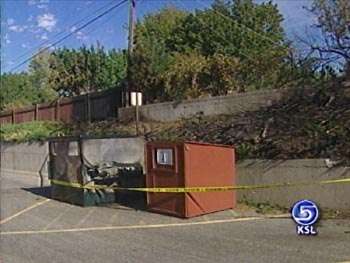 The dumpster has now been moved for safety reasons, but at the time of the explosion it was only a few feet away from the back of the school. Fire investigators say that the blast was so powerful that had someone been near it, they could have been seriously injured or killed.
George Pappas, Neighbor: "It was like being next to a car with a booming stereo. You could feel it."
A big bang last night startled George Pappas.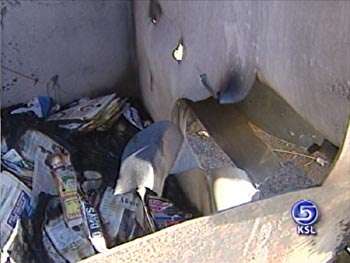 George Pappas, Neighbor: "I wasn't sure if it was lightning or a big transformer box blew up."
Rather, something had exploded inside the recycling dumpster behind his home and just outside Canyon Rim Elementary. The blast was so strong it blew out a two feet by two feet hole. The dumpster and some nearby bushes also caught on fire.
George Pappas, Neighbor: "The neighbors are knocking at the door and the neighbors are calling on the phone saying the backyard's on fire. So my girlfriend and I come running out here. She grabs the garden hose, she leaps over this fence and she proceeds to spray down the fichers."
The fire was small but Pappas feared for his home. At times, the flames, he says, reached 20 to 30 feet.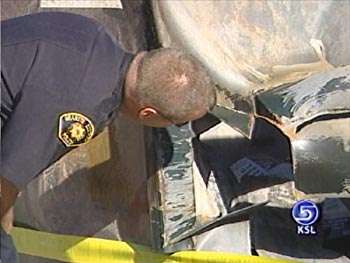 Fire investigators aren't saying exactly what it was that exploded, but they found fragments of a device inside the dumpster.
No one was hurt but they say had someone been nearby, it could have been devastating. School administrators today are relieved.
Steve Taylor, Principal: "We're glad that it wasn't nearer to the building where it could have done damage to he building or started a fire in the bushes that are close to the building."
Meanwhile, George Pappas tries to make sense of what happened. He calls it thoughtless.
George Pappas, Neighbor: "It annoys me. It annoys me horrifically cause it was so close to homes and that."
Teachers were talking to kids in school today about any concerns they had about what happened. The school is also sending notes home to parents.
As for the investigation - so far there are no suspects. They say it is a first degree felony with a penalty of 20 years to life in prison.
If you have any information on the case, you're asked to call a tip line at 743-7100.
And in yet another pipe bomb incident South Salt Lake City police found two pipe bombs during a traffic stop overnight.
The 17-year old driver also told officers he had another device at his parents' home in the Avenues. So Salt Lake City officers investigated and found a fully-functional explosive device inside his bedroom dresser.
The bomb was safely destroyed.
×
Most recent Utah stories