Estimated read time: 2-3 minutes
This archived news story is available only for your personal, non-commercial use. Information in the story may be outdated or superseded by additional information. Reading or replaying the story in its archived form does not constitute a republication of the story.
SALT LAKE CITY -- A major snowstorm slammed the Wasatch Front Saturday, bringing with it more than a hundred crashes on the roads.
Because the winter has been fairly mild up to this point, troopers warned drivers to slow down and remember to drive carefully in the snow.
"It's just been sheets of ice," said Sgt. Sheldon Riches with the Utah Highway Patrol. "[Drivers should go] slower than 40 miles per hour."
Troopers said as temperatures dropped once the sun went down, the roads iced over and things only got worse.
Those freezing temperatures created slick roads for Utah Highway Patrol troopers responding to accidents.
"Numerous troopers have fallen on the ice," Riches said. "Getting out of their cars they fall flat on their faces."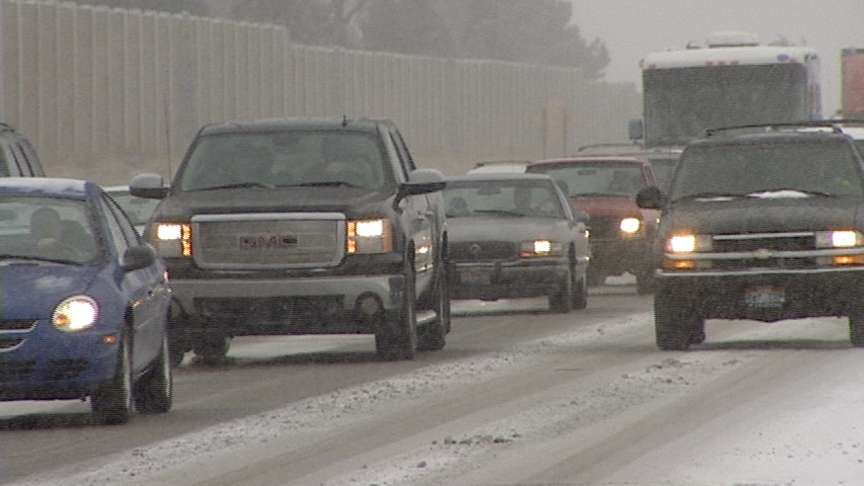 Driving on the road wasn't much easier.
"The car in front of me lost control, hit the barricade, bounced back into the freeway and that's when I hit him," driver Mindy Blake said.
Blake was headed to Salt Lake on Interstate 80 with her four children in her SUV when she crashed. They got a ride home in a patrol car, and she said she was just grateful they weren't in an ambulance.
There were hundreds of accidents and close calls on Saturday. The driver of a SUV slid right onto a train track at 200 S. 600 West in Salt Lake City. The vehicle suddenly died on the track. She was able to get out right before a freight train hit it.
"She saw the train coming and made the best call -- just got out of her car," said Lt. Scott White with the Salt Lake City Police Department.
The Tooele County Sheriff's Office asked residents to stay home and avoid driving altogether -- especially toward Salt Lake.
"If you don't have to travel, don't travel," said Riches.
Troopers said it's important to remember to slow down when the roads get bad. "We got people coming up behind us, 60 miles per hour, 70 miles per hour. It's only a matter of time before they get in a crash or cause a crash or cause injuries to themselves," said Riches.
By the end of Saturday, Troopers reported 150 crashes in Salt Lake and Utah Counties, 90 in Davis County, more than 60 in Weber and 15 in Box Elder. Though there were a lot of accidents with injuries, UHP said none of them were fatal.
E-mail: jstagg@ksl.com
×
Photos
Most recent Utah stories