Estimated read time: 2-3 minutes
This archived news story is available only for your personal, non-commercial use. Information in the story may be outdated or superseded by additional information. Reading or replaying the story in its archived form does not constitute a republication of the story.
John Daley ReportingIn the midst of all the pain from last night's shootings there are the stories of generosity and bravery. Today people are leaving candles and flowers at the scene; they're handing out "Little Miracle" cards with positive messages. This follows an extraordinary scene last night when members of our community reacted with courage or kindness or both.
During a week when a Utah family buried a soldier killed in Iraq, when another is devastated in a horrific accident and two others mourn the loss of loved ones in a horrendous explosion, Utahns are once again tapping into a vast reservoir of compassion, the kind that helps define our community.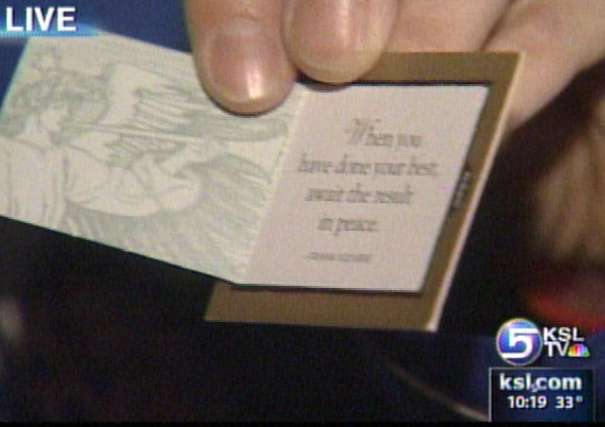 Consider Marian who comes back to Trolley Square today to pass out cards bearing blessings called "Little Miracles."
Marian, Salt Lake City Resident: "You just reflect on the gratitude of the privileged lives that we have and our blessings."
Her blessings follow many acts of kindness and bravery by other ordinary people. Like the two brothers leaving the mall who saw a wounded youth taking shelter in a car.
John Donham, Witness: "We pulled the boy out and I said, 'Let's pray for him.' So we started praying for him and all these laws started pulling up because this guy was still in there shooting. Well, throw a coat on this boy because we gotta stop this killer."
Loren Green was eating with friends at the Desert Edge brew pub. When the gunman began firing shots they ducked for cover then ran, ending up in the parking garage where they heard a woman scream and went to try to help a man who'd been shot.
Loren Green, Witness: "I stood back up, and I looked at my friend and said, 'He's gone.'"
Within minutes police arrived.
Loren Green, Witness: "He was a lone police officer, and right when he got out of his car he only asked one question: 'Where were the shots fired at?'"
Without knowing where the gunman was, Green and his friend began yelling at other mall patrons, trying to help them get out.
Chris Burbank, Salt Lake City Police Chief: "There were too many people to mention inside shops, inside restaurants in Trolley Square, that actually put themselves in harm's way to protect their customers, to protect the public who were in there."
Likewise, those who were there have plenty of praise for emergency responders.
Loren Green, Witness: "I think it's amazing the city just sort of banded together, got together. I saw police cars from far away places, immediately."
The "Little Miracle" message that Marian passed out today reads "When you have done your best, await the result in peace." Many people did their best last night and today, and their actions helped comfort others, and in some cases, clearly saved lives.
×
Most recent Utah stories