Estimated read time: 2-3 minutes
This archived news story is available only for your personal, non-commercial use. Information in the story may be outdated or superseded by additional information. Reading or replaying the story in its archived form does not constitute a republication of the story.
Carole Mikita ReportingSince 1995, "Art Works for Kids," a non-profit elementary school program, has linked dance with science, and music with math. But the program lost its legislative funding last year. Still, the idea is going forward, fueled by the enthusiasm of the children.
If science class for Barbara Gilmour's second graders looks a lot like modern dance, it is. Tina Misaka of Children's Dance Theatre is teaching them about the water cycle.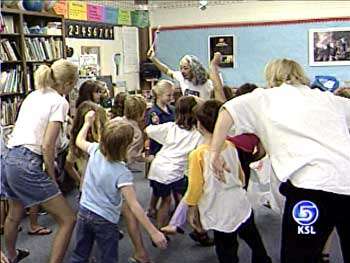 Jacquelyn Page, Second Grader: "Right now, we're doing evaporation. And we're using bags and putting air in them and letting them fly around the room."
Twelve schools in Utah have been the beneficiaries of annual 40-thousand dollar grants, which develop relationships between arts education and core subjects of reading, math and science. Teachers say when students are having fun, they learn.
Barbara Gilmour, Second Grade Teacher: "If they move it, they remember what they learn. So the kinesthetic aspect triggers in their brain, so they just crystallize it."
Educators have for years used arts to help inspire at-risk students. This program comes from a belief that classes like dance are essential and that all children can benefit. Beverley Sorenson developed the pilot program.
Beverley Sorenson, Founder, Art Works for Kids: "I feel it's natural for children to sing and to dance and create. At this age, this early age I saw miracles happen with these children. I knew it was right, it's just one of those things you know is right."
Learning about science - condensation, evaporation - doesn't just involve movement. It also involves artwork.
Jacob Young, Second Grader: "We're making umbrellas out of our bodies and…"
'Art Works for Kids' programs ask students to use their imaginations. Convincing legislators and private donors to come us with imaginative ways to continue funding this idea, is the program's next task.
'Art Works for Kids' has a special benefit concert on Sept. 6th at Libby Gardner Hall on the University of Utah campus at 7:30. Guest soloists include pianist Grant Johannesen and vocalist Michael Ballam.
×
Most recent Utah stories