Estimated read time: 2-3 minutes
This archived news story is available only for your personal, non-commercial use. Information in the story may be outdated or superseded by additional information. Reading or replaying the story in its archived form does not constitute a republication of the story.
Shelley Osterloh ReportingThe Utah State Fair is uniquely Utah with animals and exhibitions from Utah people and companies. All are preparing for the fair to get under way on Thursday.
For example, early Tuesday morning a Native American Shaman gave a special blessing over some T-shirts to be sold here at the Fair. It's part of a new Utah company that hopes to benefit Native American Artists.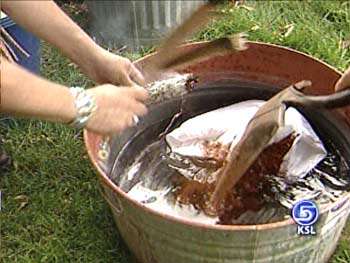 Before the ceremonial sweat lodge Two Horses Sanchez burns sage to purify and prepare the area for a blessing. He sings the four directional song and asks for peace, balance and harmony.
Four Horses Sanchez is an Arapaho Indian who has chosen to follow the path of his forefathers as a healer and medicine man.
Four Horses Sanchez: "This is one way of bringing people of all colors and the four sacred directions, together."
It is also a way to share the Native American culture through the sale of T-shirts. The shirts are dyed with natural red dirt and clay from southern Utah. Each takes on a unique blend of colors. Native Americans do the artwork and include drawings of Indian legends like the medicine wheel, white buffalo or eagle.
Those who help create the shirts say they have been touched by their spiritual power.
Rick Call, Western Art Studio: "It almost puts a lump in your throat just talking about it seeing the ceremony and seeing what comes out of this because everybody that has bought the shirts has really appreciated what they stand for."
Sanchez says some money raised from shirt sales goes to the Indian artists and programs that benefit Native Americans. And he believes each shirt comes with a special blessing.
Sanchez: "And we hope that each and every person who wears it has peace and harmony and balance throughout their lives. And we hope and pray that good luck follows them where ever they may go."
The Utah State Fair gets under way on Thursday and runs through Sunday, September 14.
×
Most recent Utah stories