Estimated read time: 2-3 minutes
This archived news story is available only for your personal, non-commercial use. Information in the story may be outdated or superseded by additional information. Reading or replaying the story in its archived form does not constitute a republication of the story.
Sammy Linebaugh ReportingSeptember is now officially Reproductive Cancer Awareness Month, thanks to the efforts of one survivor whose awareness campaign has hundreds of rock climbers coming to Utah this weekend.
State Senator Paula Julander can now add rock climbing to her list of official duties. Today she scaled a wall in front of the capitol in support of cancer awareness.
Sean Patrick, an avid climber and ovarian cancer survivor, has a passion to change perception about her disease.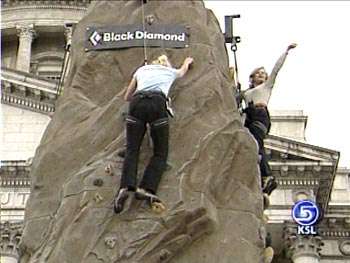 Sean Patrick: "Busting the myth -- it is not silent and it is not a killer."
In Patrick's case, though the cancer was advanced, doctors were able to control the disease. But, she says she's one of the lucky ones. Among reproductive cancers, ovarian cancer is the most deadly, in part because symptoms -- bloating, pain, chronic feeling of fullness -- can indicate any number of ailments.
Dr. Karen Zempolich, Gynecologic Oncologist: "Early on, if you notice that your belt has to be loosened out and you don't think your gaining weight but that's the only explanation, that might also be a sign."
Sean Patrick: "We're trying to get doctors, when a woman comes into the office with gastrointestinal symptoms, no matter what her age, that we put ovarian cancer on the table along with the other things to rule out."
Twenty five thousand women are diagnosed with ovarian cancer each year in the U.S. 78 percent of those are diagnosed after the cancer has spread. Sean Patrick is out to change those statistics, with this weekend's climb for life.
Now in its second year the cancer awareness campaign draws climbers to Utah from all over the country to help raise money and bring attention to the cause. The event was such a success last year, Lt. Governor Olene Walker today declared September Ovarian and Reproductive Cancer Awareness Month to coincide with the annual climb. It is a giant step toward prevention, says Patrick, if just one person gets the message.
To receive more information from the Women's Reproductive Cancer Network, email cancerlifeutah@yahoo.com.
×
Most recent Utah stories