Estimated read time: 6-7 minutes
This archived news story is available only for your personal, non-commercial use. Information in the story may be outdated or superseded by additional information. Reading or replaying the story in its archived form does not constitute a republication of the story.
(Link to previous story: Gunman Kills Five People at Trolley Square) SALT LAKE CITY (AP/KSL News) -- The 18-year-old gunman who opened fire on shoppers in a mall, killing five and wounding four others before police fatally shot him, was armed with several rounds of ammunition and was carrying two guns, authorities said Tuesday.
Salt Lake City Police Chief Chris Burbank said just before 7pm Monday night, 18-year-old Bosnian refugee and Salt Lake resident Sulejmen Talovic drove to Trolley Square, parking in the west terrace parking lot.
"As he exited his vehicle he encountered two individuals, which he immediately shot. He entered in the west doors of Trolley Square encountering a female there, and immediately shot her as well," Salt Lake City Police Chief Chris Burbank said . "He proceeded to walk eastbound through the mall, encountering five individuals in a gift shop, and he shot all five of those individuals. Moving throughout the mall, he attempted to shoot numerous other individuals, encountering two others before the off-duty Ogden City police officer engaged him and distracted his attention."
Earlier today, Ogden Police Chief Jon Greiner confirmed that an off-duty police officer from Ogden killed Talovic. The Ogden off-duty officer has been identified as Ken Hammond, a six-year veteran of the department.
Greiner says the officer was at the mall with his wife celebrating Valentine's Day two days early.
Detectives were trying to figure out what sparked Talovic's rampage Monday night at the Trolley Square shopping mall.
"You can see this individual had one thing in mind. He had a backpack that had numerous rounds of ammunition, as well as an additional firearm on him," Burbank continued. "He engaged these people with a shotgun, he had one purpose."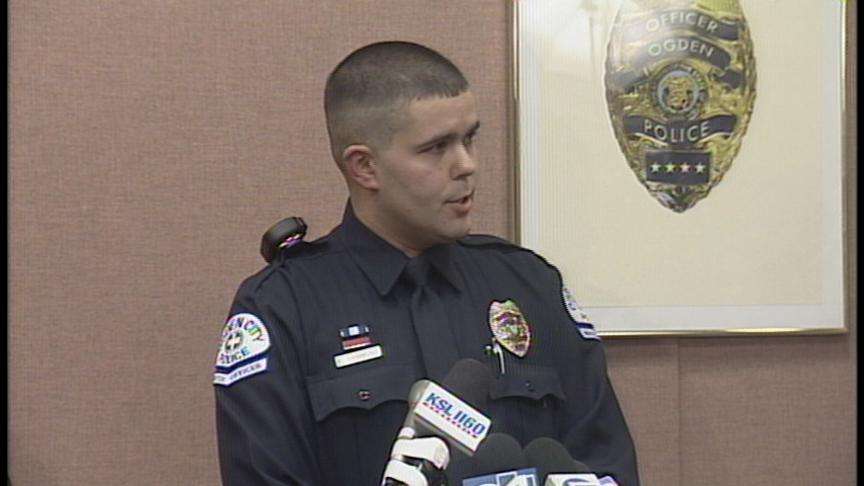 Chief Burbank said that Talovic was firing a shotgun and .38 caliber pistol, expending an unknown amount of rounds. Police received calls almost immediately that there were shots fired and that there was a gunman there. The first officers arrived on the scene three minutes later. Six minutes after the initial call was received in the dispatch center, officers called in and said that the gunman was down.
Police believe Talovic lived with his mother. At this time, police do not know where the suspect got the guns.
Killed in the attack were 29-year-old Vanessa Quinn, 29-year-old Teresa Ellis, 52-year-old Jeffrey Walker, 24-year-old Brad Frantz, 15-year-old Kirsten Hinckley.
Four people were hospitalized -- 44-year-old Carolyn Tuft and 53-year-old Stacy Hanson are in critical condition. Thirty-four-year-old Shawn Munns and 16-year-old Alan Jeffery Walker are in serious condition, spokesmen said.
At an afternoon press conference, Salt Lake Mayor Rocky Anderson and several other officials expressed his grief and condolences to the community.
"This is as tough as it gets in any community. Our hearts go out to everyone who has been impacted; and most especially to the victims of this tragic, senseless crime," said Mayor Anderson. "Our community comes together and mourns the loss of those whose lives were taken."
"I would like to extend our deepest sympathy and prayers to the victims, their families and friends, and all of the Trolley Square community who has been traumatized by last evening's events, " said Tom Bard, representative of Trolley Square. "We will do whatever we can to assist in the grieving process and to restore us all in the confidence and pleasures of our community."
Candles and flowers were left as memorials outside Trolley Square. Many people forced to leave their cars overnight returned Tuesday to pick them up and reflect on what happened.
Among them was David Dean, who found his business, Cabin Fever, "all shot up." He said he believed three or four people died in his card store, which was packed with Valentine's Day shoppers.
Dean said his assistant manager called him to report "someone's in the store killing people."
Jeff Barlow was at the Desert Edge Brewery on a second date when he looked outside and saw the trench coat-clad gunman firing from the hip.
"I thought it was some kind of joke -- some kind of movie or stunt," said Barlow, an accountant. "I didn't believe it was happening. And then I saw a man go down in a courtyard. I realized this was serious. These are real bullets flying around."
His date, Stephanie Bronson, added: "Just crazy. Absolutely terrifying."
Marie Smith, 23, a Bath & Body Works manager, said she had seen the gunman through the store window Monday night. She watched as he raised his gun and fired at a young woman approaching him from behind.
"His expression stayed totally calm. He didn't seem upset, or like he was on a rampage," said Smith, who crawled to an employee restroom to hide with others. He looked like "an average Joe," she said.
For hours after the rampage, police searched stores for scared, shocked shoppers and employees who were hunkered down awaiting a safe escort.
Matt Lund was visiting his wife, Barbara, manager of the Secret Garden children's clothing store, when he heard the first shots. The couple and three others hid in a storage room for about 40 minutes, isolated but still able to hear the violence.
"We heard them say, 'Police! Drop your weapon!' Then we heard shotgun fire. Then there was a barrage of gunfire," said Lund, 44. "It was hard to believe."
They say officers treated everyone like suspects -- ordering those hiding in storerooms, bathrooms or under stairwells, to lie on the floor with their hands on their heads until police were sure no one posed a threat.
On the way out, Lund said, he saw a woman's body face-down at the entrance to Pottery Barn Kids and a man's body on the floor in the mall's east-west corridor. "There were a lot of blown-out store windows and shotgun shell casings all over the floor," Lund said. "It was quite surreal."
The victims were found throughout the 239,000-square-foot shopping mall. Outside, streets were blocked as police swarmed the four-block scene. Dozens of people lingered on the sidewalk, many wrapped in blankets, as they talked about what they had seen inside.
The two-story mall, southeast of downtown, is a refurbished trolley barn built in 1908, with a series of winding hallways, brick floors, wrought-iron balconies and about 80 stores, including high-end retailers such as Williams-Sonoma and restaurants such as the Hard Rock Cafe.
Antique store owner Barrett Dodds, 29, said he saw a man in a trench coat exchanging gunfire with a police officer outside a card store. The gunman, he said, was backed into a children's clothing store.
"I saw the shooter go down," said Dodds, who watched from the second floor.
Four police officers -- one an off-duty officer from Ogden and three Salt Lake City officers -- were involved in the shootout with the gunman, Snyder said. She provided no other details.
Barb McKeown, 60, of Washington, D.C., was in another antique shop when two frantic women ran in and reported gunshots.
"Then we heard shot after shot after shot -- loud, loud, loud," said McKeown, saying she heard about 20. She and three other people hid under a staircase until it was safe to leave.
The mall was purchased in August by Scanlan Kemper Bard Cos. of Portland, Ore., from Simon Property Group for $38.6 million. The company said it planned to invest $80 million, attract a new anchor tenant and possibly add condominiums.
"We are devastated and shocked by this senseless, random act of violence and tragedy at Trolley Square, owner Tom Bard said in a statement posted on the KSL-TV Web site. "At this time our greatest concern and prayers are with the victims, their families and loved ones."
------ (The Associated Press contributed to this report.)
×
Photos
Related links
Most recent Utah stories