Estimated read time: 2-3 minutes
This archived news story is available only for your personal, non-commercial use. Information in the story may be outdated or superseded by additional information. Reading or replaying the story in its archived form does not constitute a republication of the story.
Communities across Utah commemorated the two-year anniversary of the Sept. 11, 2001, terrorist attacks Thursday, saluting victims and firefighters who died in the attacks and dedicating American flags to soldiers killed in the war on terrorism.
A statewide moment of silence was observed at 8:46 a.m., with the flag at the Utah Capitol lowered to half-staff.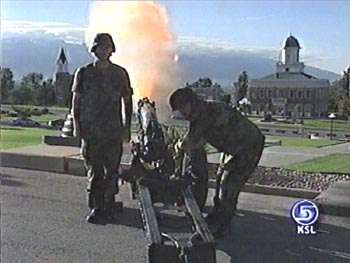 Passengers noticed normal security measures at Salt Lake City International Airport entry points, and once inside, many watched news coverage of Sept. 11 memorials in New York, Washington and Pennsylvania.
"I've been flying quite a lot lately, but this is the first time I've given my wife my flight number and all that," said Matt Brown, of Indianapolis, who was flying back home after National Guard duty in Utah.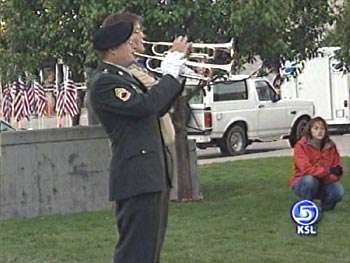 One of Utah's largest remembrances is in Sandy, where 3,412 flags will stand in a field just south of the city hall -- one for each victim of the attacks. The city also set up a Soldiers Field, where one flag stood for each coalition soldier who has died in the war on terrorism since the attacks.
Other activities planned Thursday:
--The support banner that attended Utah Task Force One to Ground Zero in New York City was placed on permanent display at the Utah Firefighters Museum in Tooele. The banner was signed by Utah firefighters and other firefighters while it was in New York. A brief ceremony was in memory of the firefighters who lost their lives.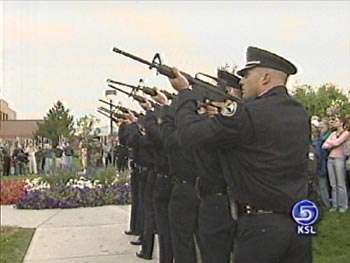 --A ceremony featuring an F-16 flyover, music and prayers was scheduled for Thursday evening in Bountiful, with the dedication of a sculpture titled "Appeal to Divine Providence" -- depicting John Adams, Benjamin Franklin and Thomas Jefferson kneeling in prayer.
--In Parowan, a Day of Remembrance was set for Thursday afternoon at the community flag pole to honor attack victims.
(Copyright 2003 by The Associated Press. All Rights Reserved.)
×
Most recent Utah stories