Estimated read time: 2-3 minutes
This archived news story is available only for your personal, non-commercial use. Information in the story may be outdated or superseded by additional information. Reading or replaying the story in its archived form does not constitute a republication of the story.
Sam Penrod ReportingPleasant Grove was put on notice back in July that if a monument to the Ten Commandments wasn't moved, a lawsuit would follow. And now it appears Pleasant Grove is getting ready to fight.
We all watched the drama in Alabama last month over the Ten Commandments. According to published reports, Pleasant Grove City is preparing to battle efforts trying to get its Ten Commandments monument removed. This monument to the Ten Commandments has sat nestled behind the old Pleasant Grove City Hall, since it was donated by the local Eagles Club 30 years ago.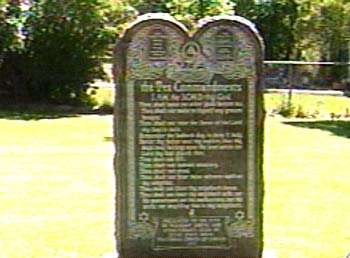 Mayor Jim Danklef declined to talk on camera today, telling Eyewitness News he was "too busy." But in today's Salt Lake Tribune he's quoted as saying, "I think it's good to stand up and say you are not going to move [the monument] off just because someone says you have to."
Attorney Brian Barnard, who represents the "Society of Separationists", argues religious markers on state property violate the separation of church and state, and points out courts around the nation have agreed.
Brian Barnard, Attorney: "If the idea is that displaying the ten commandments is going to do the world some good, get it out of a public park in an obscure place where nobody sees it. Put it in a more prominent place and get government out of the situation."
The city apparently has some groups willing to help defend the lawsuit, which Barnard has already drafted. He believes the city should follow the example of Provo, which voluntarily moved its monument on private land near the busiest intersection in town.
Brian Barnard: "There's absolutely no reason the city of Pleasant Grove should waste their money or other people's resources in fighting this issue. Move the monument to more prominent place on private property and more good will be accomplished."
Barnard plans no immediate deadline for filing the lawsuit, in hopes the city will reconsider.
Brian Barnard: "Pleasant Grove is going to end up with a bill for plaintiff's counsel. If we file the lawsuit against pleasant grove and if we win, Pleasant Grove is going to have to pay our attorney's fees."
The Ten Commandments monument in Pleasant Grove is the last in Utah that remains on government property. Other cities have moved the markers on their own, and some after battles in court.
×
Most recent Utah stories