Estimated read time: 2-3 minutes
This archived news story is available only for your personal, non-commercial use. Information in the story may be outdated or superseded by additional information. Reading or replaying the story in its archived form does not constitute a republication of the story.
PROVO -- Former Republican presidential candidate Mitt Romney spent some time in Utah Thursday and took the opportunity share his disapproval of President Barack Obama's economic strategy.
Romney was in Utah to be a part of the grand opening of the APX Alarms new headquarters in Provo. After a ribbon cutting, he posed for pictures with supporters and told reporters the president has the economy all wrong.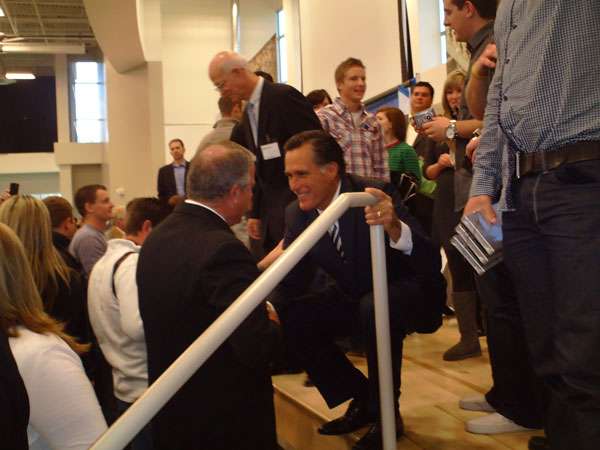 "This 10 percent unemployment is an albatross around the president's neck," said Romney. "Other president's have inherited recessions before, but this president didn't make it better, he made it worse."
Romney also said the stimulus package was a failure.
"The president indicated that his stimulus would hold unemployment to 8 percent, and that if he didn't pass the stimulus of almost a trillion dollars it would go to 10 percent. Well, we went to 10 percent. So it was a bad miscalculation that's going to cost the American people a lot."
Romney said the government needed to stop scaring the private sector with government takeovers and keep taxes down.
Romney wouldn't say if he's going to run for president again, but he has a scheduled appearance Thursday night on "Larry King Live" and published his 10-point plan on fixing the economy in Thursday's edition of USA Today.
When we told Romney he sounded like he was preparing to run again, he replied, "No, I sound like I"m working hard for good Republican candidates across the country."
The former Massachusetts governor was also asked about Mike Huckabee's decision to commute the sentence of a man who now is accused of shooting police officers.
Romney said he's sure Huckabee wished he could take that back, but he didn't want to comment much more on that other then to say his heart went out to the victims' families.
An official decision won't come after next year's midterm elections, but unofficially you can see the bumper stickers now for Romney in 2012.
------
Story compiled with contributions from Randall Jeppesen and John Daley.
×
Related Links