Estimated read time: 3-4 minutes
This archived news story is available only for your personal, non-commercial use. Information in the story may be outdated or superseded by additional information. Reading or replaying the story in its archived form does not constitute a republication of the story.
Jill Atwood Reporting"We've been trying to work with the system. The system failed us, it's failed Parker. It's failed Parker."
But that doesn't mean this determined couple isn't poised to continue to fight that system. They say they want their parental rights back so they can treat their son Parker the way "they" see fit. Barbara and Daren Jensen say they don't think their son has cancer, but if he does they can't understand why a doctor can't show them the conclusive proof.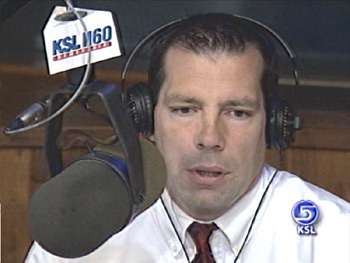 The Jensen's also say they have done everything the state has asked, but it never seemed to be enough. They're not kidnappers, they're not crazy; they say they simply defied one doctor's opinion.
The Jensens made the rounds to media outlets today trying to clear the air and share some information they say has been misunderstood or simply left out.
I think it's safe to say everyone who has gone on the record in this case admits things could have been handled better. DCFS says its actions may have been hasty, but it all seemed to come to a head much sooner than that when one doctor clashed with Parker's dad.
The phone lines lit up this morning on the Doug Wright show, everyone eager to wage their opinion on this case.
Caller: "I personally have done research on nutrition and I know there are many modalities out there that are alternatives."
But according to the Jensens that has been the problem all along--opinions, medical or otherwise, over their own.
Daren Jensen: "I think it was a personality conflict with the doctor. We started asking questions and he said, he told us that he was the treating physician and that he was in charge. I'm not going to be told what to do, so I said in return, I am the parent, I am the one who will be deciding how we're going forward."
The two came to KSL studios with two huge binders full of research, and correspondence. They want to be allowed to seek alternative treatments in Europe, but so far no one is willing to look at their research. They say so far three doctors have not convinced them their son has Ewing sarcoma, and they say they have the documentation to prove it.
Primary Children's Hospital says it has welcomed and even encouraged second opinions, and they stand by their diagnosis.
Even so, the Jensens say the doctors wrote only "suggested" diagnosis of Ewing sarcoma. The second institution called in never even mentions Ewing sarcoma. And the third simply states 'poorly differentiated malignency.'
Daren Jensen: "If the tests are clean and no one can tell me and show me proof that Parker has cancer, why should we take chemotherapy, why?"
The Jensen's say they are not willing to pump Parker full of Chemotherapy without more proof he has cancer.
Daren Jensen: "What if you're wrong? That's like saying what if I didn't strap my son into a seatbelt and we got in an accident. Who's going to live with that? Me, not the state of Utah."
Parker is set to start new testing next week under the care of his new doctor. The Jensens say they already see the writing on the wall that he will recommend chemotherapy. They say they will cross that bridge when they come to it. A lot can happen between now and then.
×
Most recent Utah stories