Estimated read time: 2-3 minutes
This archived news story is available only for your personal, non-commercial use. Information in the story may be outdated or superseded by additional information. Reading or replaying the story in its archived form does not constitute a republication of the story.
Kim Johnson ReportingImagine a restaurant with no menu and no set price, a place where customers eat whatever food is prepared that day, and then decide what they'll pay for it.
A Salt Lake City woman imagined it and opened up the "One World Cafe" last April at 41 S. 300 East. There might be only one "One World Cafe" in the world. It's a cozy, inviting little place to nosh that depends on good food and the goodness of customers.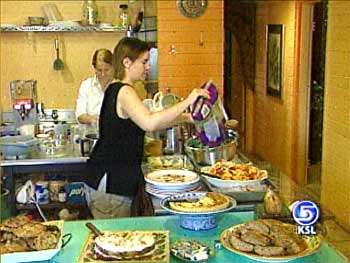 Denise Cerreta, Owner of One World Café: "I swear just one afternoon I was in here by myself, and I kind heard like --go donation--and I thought oh no! I'm out there but that's way out there."
But not too far out to try, at least not for owner and cook Denise Ceretta. She believes customers like the chance to pay what they think her meals are worth, and to be trusted.
Denise Cerreta, Owner of One World Café: "The money is over there. I'm over here. People make their own change, and I find, yes, that at the end of the day I have enough money to buy more food and continue on, and yes, people are wonderful."
Today Denise has put on a spread of cake, cookies and quiche, breads, fresh fruit, green and pasta salads, and macaroni and cheese.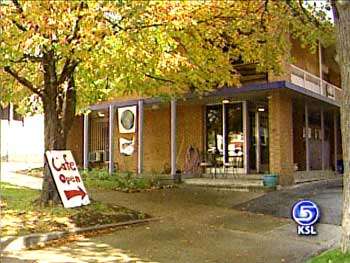 Denise Cerreta, Owner of One World Café: "That's what I call everything cake, and I have homemade tomato soup."
One customer from Texas read about the cafe and says she had to experience it before returning home.
Denise says her diners waste very little food because they get to choose their portions. They also get to choose their atmosphere. Patrons can eat in the main area, or in one of five homeopathic treatments rooms. Denise says the idea is they not only get a meal, but healing for whatever ails them, at the same time.
Denise hopes they leave the one world cafe feeling better about the one world they live in.
Denise Cerreta, Owner One World Café: "You know my mission is everybody eats. You know, that's my dharma."
Denise says she was warned she could be taken advantage of, but she says so far, so good.
×
Most recent Utah stories