Estimated read time: 2-3 minutes
This archived news story is available only for your personal, non-commercial use. Information in the story may be outdated or superseded by additional information. Reading or replaying the story in its archived form does not constitute a republication of the story.
Carole Mikita ReportingForty years ago a small regional dance company started up in Salt Lake City. It blossomed into Ballet West, now one of the top ballets in the country.
"The Nutcracker" remains Ballet West's signature piece, appropriate because it was this company that performed the first production ever. The same can be said for "Swan Lake".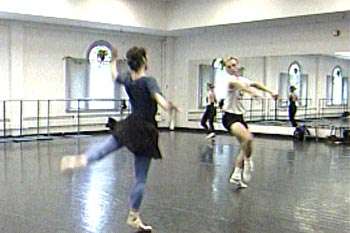 In 1963, Willem Christensen had a vision -- Salt Lake, he said, needed a professional ballet company. One of the company's proudest moments was performing at the Kennedy Center. Bruce Caldwell was the star then; he remembers all 40 years. At age 10, he left Little League for dance.
Bruce Caldwell, Ballet Master: "It was more challenging than sports. I was going 'wow, I get to dance with the girls, there's music involved, it's not just scoring points.' Once you're on stage it's all over."
Today's rising star is Chris Ruud; he is a legacy. His parents, Tom Ruud and Mary Bird, were Ballet West dancers.
Chris Ruud, Ballet West Soloist: "My parents met here. This is where the love of dance in my family came from. This is the beginning of it all for me and I couldn't be happier dancing anywhere else."
Other promising young dancers are being promoted; for example, Christiana Bennet is now a soloist.
Christiana Bennett, Ballet West soloist: "I can't believe it, I'm part of something so much bigger and I'm really proud and I'm happy I can dance here and I hope I do well for everything this season."
Jonas Kage is leading his company into the future. He knows what he inherited six years ago.
Jonas Kage, Ballet West Artistic Director: "You have a major ballet company of national and international class in your community. So, come and see us, for heaven's sake."
This season opens with the beautiful and romantic 'Giselle', a classic updated for the 21st century, much like Ballet West itself. Ballet West opens its season with performances of Giselle, beginning Sept. 26th, and running through Oct. 4th at the Capitol Theatre.
×
Most recent Utah stories