Estimated read time: 2-3 minutes
This archived news story is available only for your personal, non-commercial use. Information in the story may be outdated or superseded by additional information. Reading or replaying the story in its archived form does not constitute a republication of the story.
Kim Johnson ReportingThe Utah symphony is attempting a first this weekend. For the first time the orchestra will be sharing its stage at Abravanel Hall with dancers and a puppeteer to create an entirely new musical experience.
The suite from the "Firebird" catapulted Igor Stravinsky into the international spotlight. It was also his first extensive ballet score. So conductor Keith Lockhart says he decided to break tradition and bring dancers on stage to enhance the performance.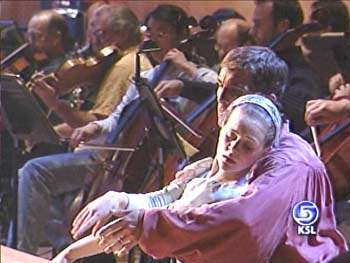 Yesterday dancer Jennie Creer-King got to perform with the live orchestra for the first time.
Jennie Creer-King, Dancer: "When the symphony is all around you, and you hear the magnificent sound all around you, it was really, really exciting yesterday."
But accommodating both artistic disciplines on one stage presented some obvious challenges. This is the first time the symphony has played in such a strange configuration. It took crews about four weeks to construct the ramp and platform featured in one number. And the diagonal ramp gave choreographer Attila Feczere nightmares he says.
Attila Ficzere, Choreographer: "All my pas de duex had to happen in that one area only. Now what do you do? And it was eight feet wide only. It's a trick."
Lockhart worried whether he'd be able to see the whole orchestra at critical junctures in the score, with his view obscured by dancers on the stage. He and Feczere worked through many of the difficulties on the phone, long distance. They both hope the result is an artistic experience that appeals to a new visually oriented generation.
Keith Lockhart, Utah Symphony Music Director: "If we can show them the music, if we can give them a visualization of what it is they're hearing, it deepens their comprehension and attraction to it."
You can see "Firebird" tomorrow night at Abravanel Hall and then again Saturday afternoon.
×
Most recent Utah stories