Estimated read time: 2-3 minutes
This archived news story is available only for your personal, non-commercial use. Information in the story may be outdated or superseded by additional information. Reading or replaying the story in its archived form does not constitute a republication of the story.
Keith McCord ReportingUtah is playing a major role in the future of Sears. The long-time department store, looking to attract more customers, chose West Jordan to try something new.
It's called "Sears Grand" and the name says it all. It is huge, 210,000 square feet, on just one level! Sears is calling this a "pilot" store because it's trying something a bit different than all the other stores in the company. And, they came to Utah to see if it'll work.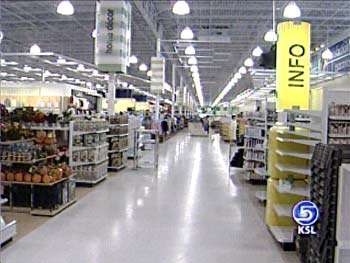 Last May, Kelly Mulherin transferred from a Sears store in Rochester, New York to take charge of the West Jordan Sears Grand. She's been constantly on the move since then. KSL caught up with her a couple of weeks ago as she was working with employees getting the final details worked out, right down to the little things.
What Sears will have is everything we're all familiar with--appliances, electronics, tools--but there's more.
Kelly Mulherin, G.M. Sears Grand: "And if you were in any of our other stores, you wouldn't be looking right now at pampers, or razors."
But at this store there are toothbrushes, juices and vitamins. Toys will be sold year-round and not just during the holidays.
The whole design concept of this store came as a result of surveying customers around the nation. The company asked, 'What do you want in a shopping experience?'
Kelly Mulherin, Gen. Mgr. Sears Grand: "It was fairly consistent: fast, friendly and convenient. They wanted wide aisles. They wanted a bright store. They wanted it easily identifiable so that they didn't have to search for what they were looking for."
And customers also wanted the checkout registers in the front of the store, instead of in the individual departments.
Sears chose West Jordan for its giant "pilot" store, because it's a growing area with a young demographic.
Kelly Mulherin, Gen. Mgr. Sears Grand: "But I think Sears has always been about family and home, and I truly think this location is everything we're all about."
Some industry analysts say Sears is trying to reinvent itself, to keep up with stores like Target, Fred Meyer and others, which have taken away customers.
Sears is opening four more of these giant redesigned stores in the next couple of years. This store is open for business, although its official grand opening won't be until October 11th.
×
Most recent Utah stories