Estimated read time: 2-3 minutes
This archived news story is available only for your personal, non-commercial use. Information in the story may be outdated or superseded by additional information. Reading or replaying the story in its archived form does not constitute a republication of the story.
Sam Penrod ReportingWhen Lehi High School plays its homecoming football game tonight, four females in the crowd will be sporting newly shaved heads.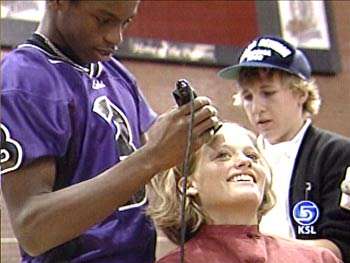 The head cheerleader, a representative on the student council, a member of the senior class and a teacher had their heads shaved during a pep rally this morning. They didn't have their heads shaved to show school spirit. Instead it was for an important cause, helping to raise money for a Lehi family, with two children suffering from cancer.
Shandi Mackintosh helped lead the cheers at Lehi High School's homecoming rally this morning. But Shandi had something else on her mind, losing her hair. Shandi gave up her hair after challenging the school to raise at least ten thousand dollars to help the Thompson family.
Twenty one-year old Meagan Thompson and her nine-year old sister are both battling cancer.
Shandi Mackintosh, Lehi H.S. Head Cheerleader: "My mom was thinking about all of the football team shave their heads. But then my brother said nobody wants to see a boy shave their head, they would do it anyway. We need a girl, and so my mom asked me and I said sure anything to help."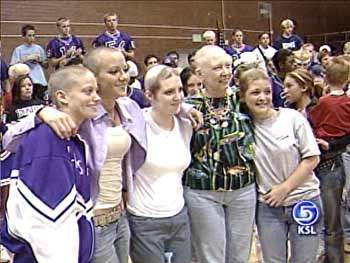 But Shandi was not alone, two other students and a teacher volunteered to give up their hair to give the fundraiser some last minute momentum.
Reva Beth Russell, Lehi High School Teacher: "At one point somebody said, 'Aren't you afraid?' And I said 'Wouldn't it be wonderful to raise this much money?' so I am glad I did it."
Insurance is helping to cover treatments for Meagan Thompson, but it won't cover cancer therapy for her younger sister Alex. Thompson says she not only appreciates the fundraiser, but her friends' bravery for shaving their heads.
Meagan Thompson, Cancer Patient: "When my hair started falling out and we shaved it, I was crying. I knew we had to do it; it was falling out everywhere. These people that did it willingly, very strong people to do something like that."
And those whose heads were shaved say it's a small price to pay to help someone else in need.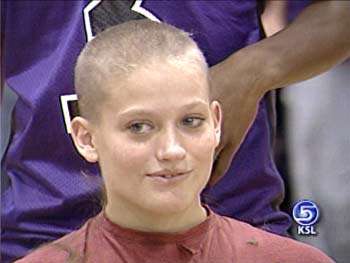 Shandi Mackintosh, Lehi H.S. Head Cheerleader: "Outward appearance doesn't matter to me. I have wigs, but I kind of like the buzz look."
So far the school has raised 15-thousand dollars and is still hoping for more. And a Lehi business says it will match the school's donation.
×
Most recent Utah stories