Estimated read time: 2-3 minutes
This archived news story is available only for your personal, non-commercial use. Information in the story may be outdated or superseded by additional information. Reading or replaying the story in its archived form does not constitute a republication of the story.
Susan Wood Reporting Children and their parents mixed cold water and cold temperatures early this morning to help a family cope with tragedy. It was a show of support today for a family dealing with an unimaginable tragedy.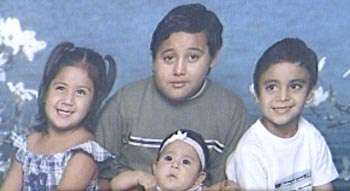 Three of their children were hit by a car while they were playing in the driveway. Two died, the other is in the hospital. And today, well-wishers are doing what they can to help.
Hilda Echegaray didn't know the family. She heard what happened on the news and, like most of us, she was heartbroken and wanted to help. So she arranged a car washing fundraiser.
Ten o'clock this morning and people were already lining up for a car wash outside the West Jordan Sam's Club. Hilda Echegaray rounded up her family and friends and asked the store manager to throw in the supplies and the space for the carwash. All the money raised will go to help the Robles family. The family must now bury two of their young children and pay the mounting hospital bills for another.
Hilda Echegaray, Organized Fundraiser: "I just figured I'd help as much as I could. This is the only way I could think that I could help them out."
And their loss is being felt by people everywhere. Just an hour after the fundraiser began the wait time for a wash was already growing. What would be a hassle every other day is a sign of community support right now.
Laurie Germain, Got a Carwash: "Lined up half hour, 45 minutes ago; that's a long wait, it's ok, its for a good cause."
Nancy Allen, Got a Carwash:" I just wanted to show my support to the family any way I can."
Hilda Echegaray: "Wow, that's all I can say. I am in awe that so many people have come to help. I am in awe, I have no words to describe how this community has come together for this little family. It's been great. "
Hilda says the average donation she's getting today is about twenty dollars per car. And sometimes the lines have been so long, people will just skip the wash and donate money.
×
Most recent Utah stories