Estimated read time: 2-3 minutes
This archived news story is available only for your personal, non-commercial use. Information in the story may be outdated or superseded by additional information. Reading or replaying the story in its archived form does not constitute a republication of the story.
John Hollenhorst ReportingPolice and fire crews in Davis County scrambled today when witnesses called in to report a crashed helicopter hung up in some power lines. It turned out to be a false alarm, but when you see what that chopper was actually doing, you'll understand how the false alarm happened.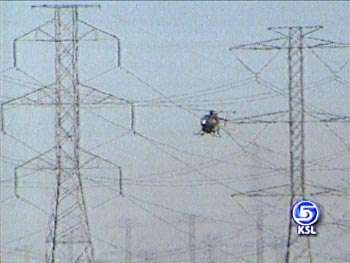 Imagine seeing huge power lines, among the biggest and most important in the state, carrying 345,000 volts of electricity with a helicopter hovering just about as close to those high voltage lines as you can get without touching. If that type of flying seems a little hairy, that's because it is.
Dennis Anderson is piloting what amounts to a flying washing machine. And he has to get in close to do the job. He sometimes has wires above, wires below, the spray nozzle just a few inches from the 345,000 volt towers of power near the Great Salt Lake.
A lineman in the back seat is washing insulators for Utah Power. They've gotten kind of gunky lately.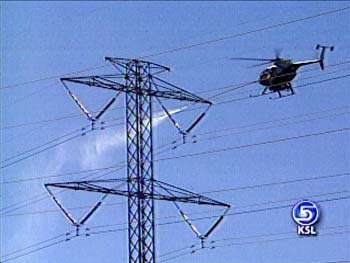 Ray Walker, Utah Power: "Salt contaminants and dust and bird contamination. Since we're next to the Farmington bay bird sanctuary."
Anderson flies in a suit that's 25% stainless steel to conduct electrical charges away from his body. But he says his work is not as dangerous as it looks, sort of like driving a car.
Dennis Anderson, Haverfield Electrical Air Team: "Kind of like that. Once you figure it out, hahhhh, it's just like any other kind of job."
Why go to this much trouble to clean a bunch of insulators? It seems that dust and salt and bird poop are also good conductors, the opposite of insulation, which could lead to electrical arcing and a major power outage.
Ray Walker, Utah Power: "Sparks will jump, big time. On this line."
Believe it or not, this is one more problem you can blame on the drought. They probably wouldn't have to do this if it rained once in awhile. Anderson and his lineman aim a fierce blast of de-mineralized pure water. It may be hairy, but Anderson says the flying doesn't scare him.
Dennis Anderson, Haverfield Electrical Air Team: "No. No, heck no. I would never let myself get complacent though. You should never have like a comfortable feeling. That's when your guard's down and you gotta pay attention to what you're doing all the time."
When you hover for long periods so close to power lines, it confuses people. Two different witnesses called police today because they thought the chopper was tangled in the lines. Fortunately, it was just business as usual for Dennis Anderson.
×
Most recent Utah stories