Estimated read time: 2-3 minutes
This archived news story is available only for your personal, non-commercial use. Information in the story may be outdated or superseded by additional information. Reading or replaying the story in its archived form does not constitute a republication of the story.
Carole Mikita Reporting Just in time for Valentine's Day, we have a look at what's been going on for the last 50 years in the Marriage Capitol of America, Las Vegas.
More than 9,000,000 people were married in Nevada between 1956 and 2006, and we all know the majority of those weddings happened in Las Vegas.
So, for the first time, we can all go online and see that, if vows were exchanged,'What happened in Vegas, no longer stays in Vegas.'
Fluffy white dress--check. Light blue tux on layaway--roll the dice, baby. A new website takes you inside the famous and infamous marriage and divorce records of Las Vegas. Let's check the celebrities.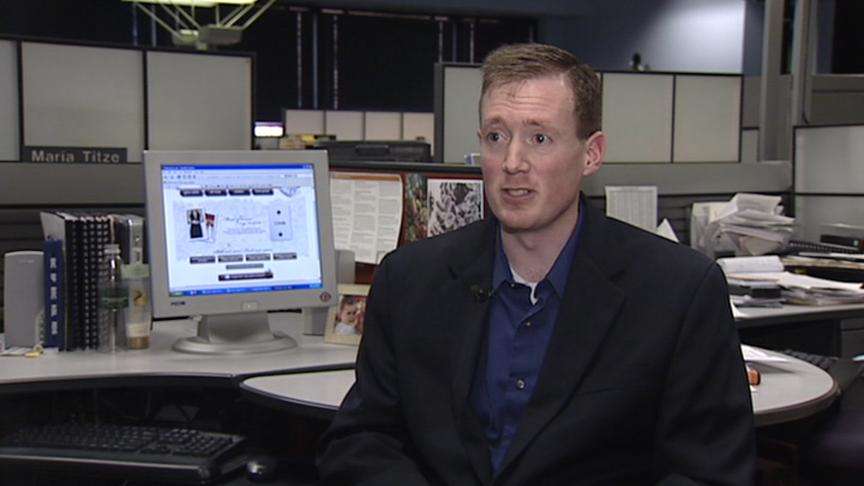 Mike Ward, Ancestry.com: "You can find Elvis Presley and Priscilla. You can find Britney Spears, both her marriage and her divorce record, in her 55-hour marriage."
In 2000, Angela Jolie, using her father's last name Voigt, married Billy Bob Thornton. There's Michael Jordan, we know that didn't last, either. Rumor has it Mickey Rooney married seven of his eight wives in Vegas. This site found only two. Elizabeth Taylor married Eddie Fisher, husband number four of eight, in 1959. And the U.S. record-holder, Glynn 'Scotty' Wolfe, who married one of his 29 or 30 wives (one at a time, folks) in Las Vegas. In 1998, Dennis Rodman married Tara Patrick, stage name, Carmen Electra.
These fun facts about celeb quickie weddings and divorces come from Ancestry.com, which many people use for genealogy research.
Now, as Valentine's Day approaches, there's more.
Mike Ward, Ancestry.com: "The idea was, you could put in your first name and your significant other's first name, and it would give you the odds that you would get married in Vegas. Plus you can do things like find out which best men or bridesmaids to avoid."
I asked colleague Candice Madsen, who is single, to allow us to experiment with her name. What are the odds she will marry someone named David or John or Michael?
Mike Ward, Ancestry.com: "You have great odds of marrying David or John or Michael."
Candice Madsen: "Cause those are common names, right?"
Mike Ward, Ancestry.com: "It's very common names (all laugh)."
Candice Madsen: "Is that what it's about?"
Mike Ward, Ancestry.com: "It's what it's all about..."
The most popular day for Nevada weddings is Valentine's Day, especially if it falls on a Saturday, like in 2004. Three thousand weddings took place that day, which is more than two marriages a minute.
The bad news part of this is that Nevada is also the 'divorce capitol of the world.'
To experiment with the site or to find out more, visit the link on the right.
×
Related links
Most recent Utah stories