Estimated read time: 1-2 minutes
This archived news story is available only for your personal, non-commercial use. Information in the story may be outdated or superseded by additional information. Reading or replaying the story in its archived form does not constitute a republication of the story.
Samantha Hayes reportingThe family invited us to talk with them before the church service. They say the way the community has responded with so much support is helping them cope.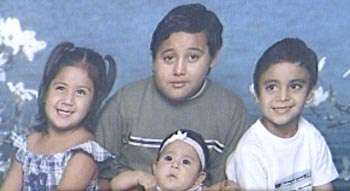 Cindy Jacobsen saw nine-year-old Jorge Robles everyday. She was his crossing guard on the way to school.
Cindy Jacobsen/ School Crossing Guard: "Let me tell you, the first time I saw Jorge, I was intrigued because of his sweet little spirit, and the way he was with his little brother. Like a protector and guardian over Christopher."
And his little sister, four-year-old Yanira.
Aunt: "She always smiled. She always had a beautiful smile."
Carlos Robles/ Cousin: "He was like a good soccer player, like a goalie. He wanted to be a star goalie."
Those are the things family members will hold onto--especially tonight.
Jorge Arce-Larreta Family friend: "They never had a chance to grow up and develop. That's what is so sad about it."
Last Thursday three of the children were playing in the driveway of their Taylorsville home when they were hit by a car. Jorge and Yanira died, and Christopher is still in the hospital.
Toxicology tests will determine if the driver, 19-year-old Michael Whitten will face more serious criminal charges.
While the family strugggles with the question why, why this had to happen to them, they have a message for other parents.
Luz Robles/ Family Spokesperson: "Two children. And in a fraction of a second this all happened. And they are no longer with us. We know their spirits are with us, but we can't see them anymore and play with them and laugh with them. We just want to make sure parents enjoy the time with their family and don't go through the stuff we are going through."
×
Most recent Utah stories