Estimated read time: 2-3 minutes
This archived news story is available only for your personal, non-commercial use. Information in the story may be outdated or superseded by additional information. Reading or replaying the story in its archived form does not constitute a republication of the story.
Jed Boal ReportingA canyon drowned by water the last three decades served as a natural amphitheater Saturday for a concert with political overtones. A Grammy-winning musician made a pilgrimage to Lake Powell to perform in a place that echoes the past.
Sweet, lonely sounds of a solo soprano saxophone echoed off the sandstone like a lost songbird in a canyon long since submerged by the damned waters of the Colorado River. The Cathedral in the Desert in Glen Canyon National Recreation Area is high and dry for the first time in 35 years.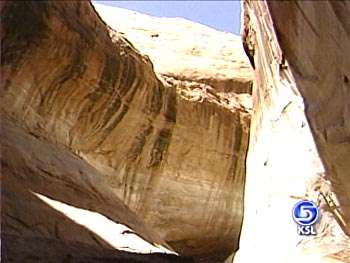 Three-time Grammy winner Paul Winter came to create, as he calls it, an acoustic Shangrila, magical tones to compliment the visual beauty.
Winter is among a vocal group of people who want to drain Lake Powell. The Glen Canyon Institute wanted to show off the beauty exposed by five years of drought.
Richard Ingebretsen, Glen Canyon Institute: "This is one of the most beautiful places on earth, not just in Utah, but on earth."
To the naked eye it is immense, too expansive to capture with a lens.
Richard Ingebretsen, Glen Canyon Institute: "It raises awareness that this is a place that shouldn't have been flooded, and should not be re-flooded. This place should be out for the eternities to enjoy."
Getting there isn't simple. It's up the Escalante from Lake Powell, 20 miles from Bullfrog, but it is worth the trip. Low water reveals many arches, canyons and waterfalls of Glen Canyon.
Jerry Dixon came to the Cathedral when it was last exposed, a powerful experience.
Jerry Dixon, Supports Draining Lake Powell: "I knew when I left I'd probably never see it again, so I said goodbye."
As he stood in the Cathedral again he remembered those feelings from 1968 when he'd had a conservation awakening.
Jerry Dixon, Supports Draining Lake Powell: "It was emotional, even spiritual. And I thought, they're going to drown this? That's wrong."
Supporters of the dam say it's doing exactly what it was designed to do--store water during long periods of drought.
Marianne Karraker, Special Park Uses Coordinator: "Because of the dam, there's Lake Powell. Because of Lake Powell, there's Glen Canyon National Recreation area, which is whom I work for. So I have strong feelings about the dam being there."
Ironically, it was her job to write the permit for the concert.
The Glen Canyon Institute believes it's realistic to envision the end of Lake Powell. Sediment will eventually fill the reservoir. To them it's not a matter of if, it's when. They believe nature's waters will flush the canyons and the call of the songbird will be heard again. Friends of Lake Powell, those who support the lake, have approached the National Park Service about holding a concert of their own sometime soon.
×
Most recent Utah stories