Estimated read time: 2-3 minutes
This archived news story is available only for your personal, non-commercial use. Information in the story may be outdated or superseded by additional information. Reading or replaying the story in its archived form does not constitute a republication of the story.
Sam Penrod ReportingThe Forest Service is blaming the wind for blowing a controlled burn into a raging forest fire that is filling the Wasatch Front with smoke, and making the air dangerous to breathe.
The Forest Service intentionally started the fire to clear out 600 acres of dense forest near Cascade Springs above the town of Midway. But the controlled burn jumped the fire lines yesterday evening and since then has been burning out of control.
The hotter temperatures this afternoon are sending the flames high into the air and the smoke is thick. Officials now say this fire has burned at least 3200 acres.
And what the controlled burn was actually suppose to prevent is what is happening today, an intense fire burning out of control, that is difficult to fight.
Fire crews got their instructions this morning, the game plan for battling this wildfire, burning near Cascade Springs on the Alpine Loop Road. Eighty firefighters on the ground are trying to build fire lines to keep the blaze from spreading.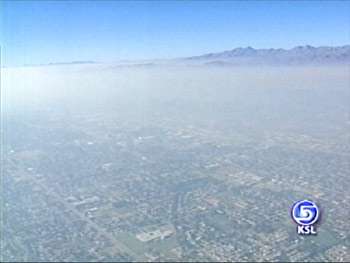 Loyal Clark, Uinta National Forest: "Our tactic today is to try and get line in on the east side of the fire where it poses the greatest risk toward structures."
No buildings are in immediate danger, however the fire is burning towards Solider Hollow, the cross country venue during the Olympics.
Four helicopters are dropping water from the air, but the smoke is so thick,casting a shadow over the area, that airplane tankers cannot fly over the fire.
The most pressing question here is how did this happen? Forest Officials blame unexpected high winds that blew sparks across a road meant to be a fire barrier.
Loyal Clark, Uinta National Forest: "We are comfortable with the decision we made to implement this prescribed burn, we had everything in place, we went through our checklist."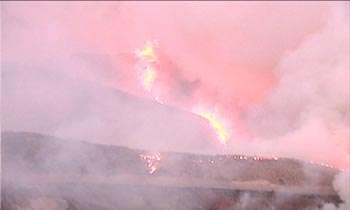 Prescribed burns are not unusual. This one had been in the planning stages for three years. Forest service officials defend the use of prescribed burns, calling them necessary to keep the forest ecosystem healthy.
Jim Thomas, Uinta National Forest: "We know this is the course for the future. We have to be burning and treating these fuels and trying to change our condition classes, and so we need to get this one done, finish it, put it out and then start planning to be better for next time."
The Forest Service actually planned to begin the prescribed burn a year ago. It was postponed because conditions did not meet requirements.
There is still no time estimate on when this fire will be contained.
[**View More Pictures of the Wildfire**](http://tv.ksl.com/index.php?sid=49633&nid=5&pid=1)
×
Most recent Utah stories