Estimated read time: 2-3 minutes
This archived news story is available only for your personal, non-commercial use. Information in the story may be outdated or superseded by additional information. Reading or replaying the story in its archived form does not constitute a republication of the story.
Sam Penrod Reporting A fire set on purpose in Utah's Wasatch County, has become a nagging headache for the Forest Service. The controlled burn jumped the fire line and raged out of control last night.
And today,smoke from that fire poured out of the canyons, and left a smelly blanket over the Salt Lake Valley.
The fire appears to be settling down for the night, but has consumed more than 3000 acres. And as firefighters continue to battle the blaze, top Forest Service officials heard from angry residents tonight, demanding answers about what went wrong.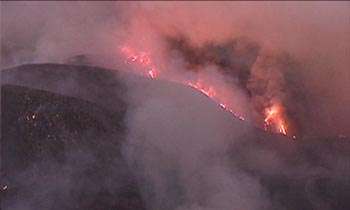 As the sun-set over Wasatch County tonight, dense smoke filling the night sky, residents of Midway met for a town meeting, as Forest Service officials tried to explain why the fire was started -and how it began burning out of control.
Victoria Romney/Midway Resident: "WHY ON EARTH WOULD YOU DO THIS LATE IN THE SUMMER OF A DROUGHT YEAR?"
Bill Young/Midway Resident: "YOU CAN'T ROAST A HOT DOG, IF THIS FIRE WOULD HAVE BEEN CAUSED BY SOMEBODY LIGHTING A HOT DOG, WHERE WOULD THEY BE TODAY?"
Midway Residents echoed fears from a devastating fire 13 years ago, which killed two local firefighters and destroyed 18- homes.
Mike Davis/Wasatch County Manager IT BRINGS BACK A LOT OF BAD MEMORIES AND RECOGNIZING THIS IS NOT THE SAME FIRE, BUT THOSE MEMORIES ARE STILL THERE.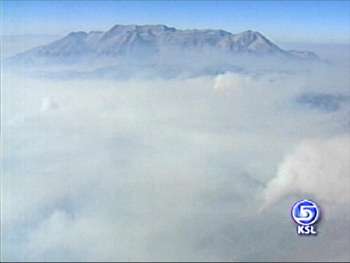 The forest service had only planned to burn 600-acres in the controlled burn, which was designed to clear out forest overgrowth. But strong winds yesterday pushed sparks over the fire barrier, which quickly sent the fire burning out of control. Forest Service officials still defend their decision to begin the prescribed burn.
Loyal Clark Uinta National Forest: WE ARE COMFORTABLE WITH THE DECISION WE MADE TO IMPLEMENT THIS PRESCRIBED BURN, WE HAD EVERYTHING IN PLACE, WE WENT THROUGH OUR CHECKLIST.
Today 80 firefighters attacked the flames on the ground, getting some help from four helicopters-together fire crews tried to build fire lines, to contain the blaze. d not fly because of dense smoke. Fire crews say they are doing their best to get the fire under control.
Jim Thomas Uinta National Forest: "THEY LIKE TO DO A GOOD JOB THEY'RE FEELING REALLY BAD ABOUT THIS AND REALLY WORKING EXTRA HARD TODAY BECAUSE IT WENT SOMEWHERE WE DIDN'T WANT IT TO GO."
Firefighters say they made good progress today, building lines around the fire, but it will likely be two or three more days, until the fire is contained. For now, no structures are in immediate danger, but still a lot of concern tonight.
×
Most recent Utah stories