Estimated read time: 2-3 minutes
This archived news story is available only for your personal, non-commercial use. Information in the story may be outdated or superseded by additional information. Reading or replaying the story in its archived form does not constitute a republication of the story.
Jill Atwood ReportingDaren Jensen: "I will use everything that I have to fight you, to protect my family."
A defiant Daren Jensen has tough talk for the state of Utah. "Our son is cancer free," he says "leave us alone." The Jensen's claim new tests prove they were right and doctors were wrong.
Initial results from Parker's new doctor show no cancer in his system. Yet, there was no mention of the initial tissue sample in which doctor's first diagnosed Ewing sarcoma. Also, according to the state, the Jensen's do not have back "all" the results.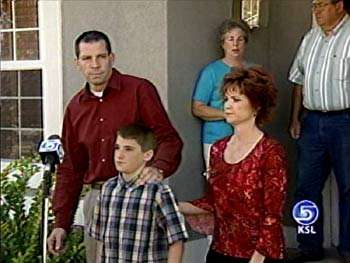 From what we understand, their doctor in Boise has been trying to get a hold of them all day, apparently he has something very important to tell them. But the Jenson's seem to be content with just the information they have, proof enough their son is fine.
With Parker at the lead, emotions obviously raw, the Jensen family faced a mob of reporters and cameras.
Parker: "I know you are all interested in hearing the results of my test and the results are that it didn't find any cancer at all and the state of Utah needs to leave us alone."
Barbara Jensen could barely hold it together as she talked of a horrible summer, a time in their lives she hopes they can now put behind them.
Daren: "We can feel our family being ripped apart by the state of Utah and they still have not proven that our son has cancer."
But despite their pleas to be left alone the state knows it's just not that simple. More test results are yet to be revealed and a recommendation by the doctor hangs in the balance.
Daren: "It's been six months the tests are still normal. Why are we still playing this game?"
But what Daren Jensen won't talk about is tissue yet to be tested, and the doctor's ultimate recommendation. They suspect he'll suggest chemotherapy. What then, does their agreement with the state still stand?
Daren: "This isn't a choice or a fight for treatment. It's a fight about how to raise your family and how to care for them. We can do that."
×
Most recent Utah stories