Estimated read time: 2-3 minutes
This archived news story is available only for your personal, non-commercial use. Information in the story may be outdated or superseded by additional information. Reading or replaying the story in its archived form does not constitute a republication of the story.
Sammy Linebaugh ReportingIt's considered one of the roughest competitions in track and field, a 3000 meter obstacle course where speed and agility combine and one misstep can be costly.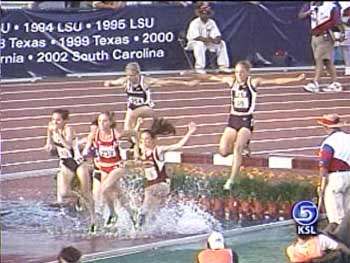 Liz Jackson, Holds U.S. Women's Steeplechase Record: "People are fighting for space, there's a lot of elbows and there's legs flying all over. I mean, you go over the barrier and there are like 15 girls and everyone's trying to jump and there's not enough room."
Former BYU runner Liz Jackson was the first to win the NCAA Women's Steeplechase, a race that until that time was reserved for men. BYU Coach Patrick Shane, who continues to work with Jackson, says she's something of a trendsetter.
Patrick Shane, BYU Track and Field Coach: "We've got probably three of the four best women steeplechasers in america training right here."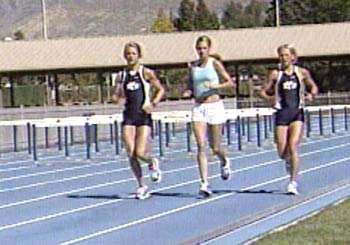 BYU's Michaela Mannova followed her former teammate to win the NCAA Championship the very next year, clipping Jackson's time by a mere second.
Coach Shane: "And then last year Cassie Anderson won the NCAA championships. They've only had it three years, and broke Michaela's record, so a BYU athlete has won it and broken the record each year."
A four-peat by BYU will take a repeat by either Anderson or Mannova, who with Jackson will spend this fall fine-tuning techniques and building the endurance to carry them seven and a half times around the track, over 28 hurdles or barriers plus another seven water jumps. They'll do this all in less than ten minutes.
Kassi Anderson, 2003 NCAA Steeplechase Champion: "It's not too long, it's not too short, it's different. So you can focus on each barrier instead of doing lap after lap after lap."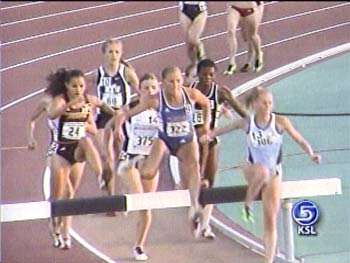 Michaela Mannova, 2002 NCAA Steeplechase Champion: "Because it's a long race, it's 3000 meters, without the hurdles and barriers it would be really boring."
Jackson, who has now turned professional and currently holds the US Women's Steeplechase record, says that's just what she used to say about plain old running when she first took up track in high school.
Liz Jackson: "I think it's a little bit of an acquired taste for me maybe. I didn't like it at all in the beginning. I think running is an acquired taste for everybody, definitely."
×
Most recent Utah stories