Estimated read time: 2-3 minutes
This archived news story is available only for your personal, non-commercial use. Information in the story may be outdated or superseded by additional information. Reading or replaying the story in its archived form does not constitute a republication of the story.
John Daley ReportingThe Parker Jensen case has touched a nerve for many Utahns on all sides of the issue of parental rights. There was an expression of that today with a rally on the steps of the state Capitol.
The rally at the Capitol started out as a feisty protest of state policies. But it evolved into an angry, more confrontational situation that came very close to resulting in people getting arrested. It's a clear indication that this issue has become a hot one.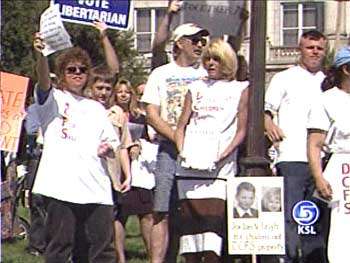 It's hard to imagine an issue more emotionally charged. Hundreds of times a year the Utah state government steps in to remove a child from a home under the belief it is protecting the child.
The crowd of people rallying on the doorstep of state government today had a long list of serious accusations. They claim state child protection agencies are routinely abusing their power, wrongly and even illegally separating families, something those agencies have long denied.
Elizabeth Bierly, Parent: "Parents get up. You need to stand up and fight. You need to fight for your rights."
Daniel Newby, Friend of Jensen Family: "Help us throw out Governor Leavitt and every legislator and every bureaucrat who refused to stand up and fight for families."
Dave Hansen, Accountability Utah: "Domestic terrorism sponsored by our own state government is causing a rapidly growing number of citizens to fear their government. And for good reason, many parents are totally innocent of the alleged abuse and neglect."
The anger was palpable as the crowd marched up the steps and into the corridors of power, filling the lobby of the Attorney General's Office. Then things threatened to boil over.
"This is the people. We have a warrant. Come out and talk to us. Knock, knock, knock. Come out and talk to us."
Eventually a member of the Attorney General's staff emerged to talk. Next they went to the Governor's Office. His chief of staff came out and got an earful.
This is an issue that is cutting across the political spectrum. Today there were representatives from progressive women's advocacy group JEDI for Women joining hands with a group at the other end of the political spectrum--Gayle Ruzicka's Utah Eagle Forum.
×
Most recent Utah stories