Estimated read time: 2-3 minutes
This archived news story is available only for your personal, non-commercial use. Information in the story may be outdated or superseded by additional information. Reading or replaying the story in its archived form does not constitute a republication of the story.
Mary Richards and Samantha Hayes Reporting Punishing drunk drivers is up to local judges and prosecutors. And, often times, a drunk driver can have that charge dropped by getting treatment or education. That's called a plea in abeyance, and it's the subject of a bill brought on by recent tragedies, including the one over the weekend.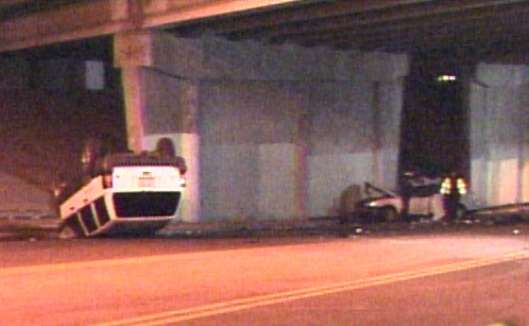 The consequences for the 17-year-old driver of this SUV will be harsh: three people including a pregnant woman died because of his decision.
But last Friday night when this fatal crash happened, hundreds of other drunk drivers were also on the roads. Some of them may have been stopped and arrested. Mothers Against Drunk Driving president Art Brown says often the charges are dropped.
Advocates want lawmakers and prosecutors to get tougher on DUIs. The legislature is looking at a few DUI bills this session.
MADD President Art Brown says we are way too soft on DUI offenders the first time.
Art Brown: "Well, if you drive home, fine. If you get caught we'll give you a plea on abeyance, we'll do a few things. And then if you kill somebody, we'll send you to jail."
Brown says we have to have laws that say: You drive drunk the first time, you get a conviction.
Art Brown: "If you get picked up for a DUI you don't happen to kill somebody but make the same decision to drive and for things like treatment or education they'll wipe the charges off."
By law, that will no longer be an option in 2008. But many lawmakers would like that to happen sooner. So right now there is a bill to amend that law and move up the date to July of this year.
Rep. Craig Frank (R) Utah County: "The reason why we brought this forward is recent events in Utah."
Representative Craig Frank, the sponsor of the bill, heard from his constituents in Cedar Hills after a drunk driver struck and killed three members of the Ceran family Christmas Eve.
Art Brown: "The victims have the longest sentences and heaviest burdens. We are still going to the graveyard when the person is out of jail, I can assure you, and we want a conviction to state the seriousness of the crime."
×
Most recent Utah stories