Estimated read time: 2-3 minutes
This archived news story is available only for your personal, non-commercial use. Information in the story may be outdated or superseded by additional information. Reading or replaying the story in its archived form does not constitute a republication of the story.
John Daley Reporting As the Williams family and friends grieve, law enforcement officials are investigating. What about the driver of the car that hit them? What was he doing before the accident? And what happens next?
Police are awaiting toxicology results to determine if the driver had been drinking. Meantime, the DA's office is contemplating whether he should be charged as an adult, and how many charges of vehicular manslaughter he could face.
Barely three days after this devastating accident took the lives of three members of the Williams family and an unborn child, it already looks like a cautionary tale of the dangers of drinking and driving.
Police believe the 17-year-old driver, a senior at Skyline High, was drinking and are investigating where he may have gotten the alcohol.
Robin Snyder, Salt Lake City Police Dept.: "We are looking into that; and that is part of the investigation to find out what led up to accident, where he was, what he was doing. Those types of things will be investigated."
Christopher Williams, the husband and father of the victims, says his family has reached out to the driver.
Christopher Williams: "Forgiveness is a source of power, but it is not something that relieves us of consequence."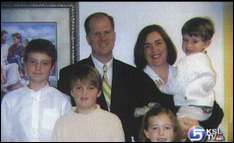 Ultimately, it'll be up the DA to decide whether the teen should be charged as an adult and if he should face three charges of vehicular manslaughter or four, including the unborn child.
Lohra Miller, Salt Lake County District Attorney: "It's my job as the district attorney to make sure our community is safe and while the victim may forgive, I must do what I can to make sure we are safe and punish the person that committed the offense if that's what happened."
The accident touches two schools where counselors were helping teachers and friends cope. The two Williams children attended Highland Park Elementary.
Jason Olsen, Spokesman, Salt Lake School District: "There were some pretty raw emotions there today, especially the teachers who had these specific students in their classes for homeroom. They were having a hard time with it."
At Skyline, most students take Drivers Ed and all who do get in-depth instruction.
Randy Ripplinger, Spokesman, Granite School District: "So our students leave our driving program being very, very much aware of what can happen if you take alcohol or drugs and especially while driving."
County DA Lohra Miller says she's still waiting for police to finish their investigation before filing charges against the driver. That could happen later this week.
×
Related links
Most recent Utah stories