Estimated read time: 2-3 minutes
This archived news story is available only for your personal, non-commercial use. Information in the story may be outdated or superseded by additional information. Reading or replaying the story in its archived form does not constitute a republication of the story.
Richard Piatt ReportingSalt Lake City mayor Rocky Anderson showed up at a news conference of one of his opponents today. Frank Pignanelli called the media to city hall to talk about high turnover and poor morale among employees. What he got was an impromptu debate on every point he made.
Frank Pignanelli says there's a major problem, lurking at city hall.
Pignanelli: "It is a management style in city hall; lets not make any bones about it."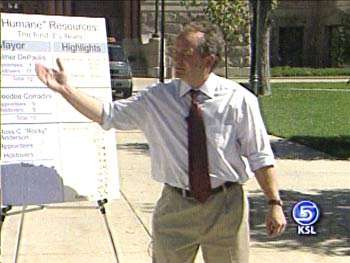 His audience, this day--A few reporters, a few staff members and Rocky Anderson himself. Anderson showed up to counter-attack Pignanelli's charts and graphs that show what he calls the 'cost of poor management' at city hall. Pignanelli points to the number of city workers who left since Rocky took office, far more than the two previous administrations combined.
Frank Pignanelli, Candidate For Mayor: "Let's not gloss over what everyone knows. What I'm saying is the emperor has no clothes. And everyone knows in Salt Lake City that this is a horrible place to work."
Anderson was quick to respond using Pignanelli's own charts and graphs. He admits this is an issue he hears about a lot and it bugs him. But he prefers to frame what's happened in the context of 'finding the right team' and 'getting things done'.
Rocky Anderson, Salt Lake City Mayor: "In the first six months we did have high turnover. But in the last three and half years things have stabilized dramatically. And we have a great, hardworking passionate team of people."
Management style is a significant campaign issue in this race. Pignanelli says he hears concerns about the problems all the time. Anderson's presence at this news conference shows he knows that and will take any opportunity he can to counter-attack with his own take on the turnover at city hall.
The three mayoral candidates start a series of debates this week, starting tonight at the Salt Lake Public Library. The Primary election will take place a week from tomorrow.
×
Most recent Utah stories