Estimated read time: 2-3 minutes
This archived news story is available only for your personal, non-commercial use. Information in the story may be outdated or superseded by additional information. Reading or replaying the story in its archived form does not constitute a republication of the story.
Sandra Yi ReportingSome American troops serving in Iraq have reunited with their families for the first time in months. The short break has allowed one Utah soldier to see his newborn baby for the first time.
Combat Engineer Cody Adamson had a special delivery awaiting him when he returned home to Utah from Iraq this weekend, a seven-week old baby daughter named Alyssa. The Utah National Guardsman waited nearly two months to hold his new baby daughter. She was while Adamson was in Iraq.
Cody Adamson: "She looks a lot like me."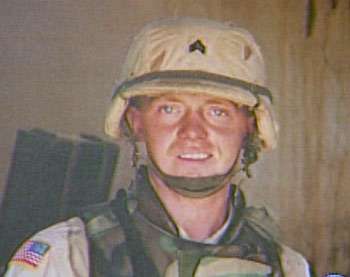 Adamson is one of seven or eight Utah soldiers, members of the 1457th Combat Engineers, back home or on their way back home for a short but well-deserved break. Their leave is part of a Central Command Rest and Recuperation program for service people with 12 month orders.
Cody Adamson, Utah Army National Guardsman: "If I could stay, I would, but we've got a job to do back there."
Adamson was stationed in Fort Lewis, Washington in February and was deployed to Kuwait two months later after the heavy fighting in Iraq ended. The combat engineer now helps with the clean up effort and security missions outside Baghdad.
Cody Adamson: "It's a challenge. It's difficult to be away but the way I see it is, we're citizen soldiers. We agreed to do this and here we are doing it."
But not without sacrifice. Adamson received his orders when he was a newlywed, married to his wife for only four months. He had also just discovered he was about to be a father. He experienced his baby's birth, over a satellite phone.
Cody Adamson: "I'm not going to say it's not hard. It's definitely a challenge."
Kami Adamson, Cody's Wife: "I supported him and this war 100 percent. I support what they're doing over there."
Still, the separation is difficult. These days the couple is trying to make up for lost time. Then they'll have to cope with another separation that can last up to nine months.
Kami Adamson: "We try not to talk about it. It's going to be very hard."
The timing of this break was a blessing for the couple. Their one year wedding anniversary falls on October 12th, the day before he leaves for Iraq.
×
Most recent Utah stories