Estimated read time: 2-3 minutes
This archived news story is available only for your personal, non-commercial use. Information in the story may be outdated or superseded by additional information. Reading or replaying the story in its archived form does not constitute a republication of the story.
Carole Mikita ReportingUtah's largest Jewish congregation has a new rabbi who's young, energetic and only four years into this life as a religious leader and teacher. Many are already intrigued by Tracee Rosen's view of Judaism.
Welcoming the New Year, announcing the Day of Atonement and letting her congregation know she has arrived, Rabbi Tracee Rosen blows the shofar she found in Israel. From a mostly traditional Jewish family in Denver she was the child with all of the questions.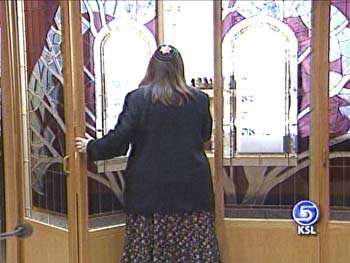 Rabbi Tracee Rosen, Congregation Kol Ami: "Why aren't we doing this?' and 'why aren't we doing that?' and my folks always said, 'if you want to do that when you grow up, feel free', so... "
So, she did. But the leap into rabbinical school came later following a 15-year banking career.
Tracee Rosen: "When God wants us to do something in this world, sometimes we get a tap on the shoulder. And if we ignore that, then we get a little bit of a shove. And sometimes it takes sort of a baseball bat to the back of the head to say, you know, 'wake up'."
And 'wake up' is part of her message to her flock. She wants everyone to participate in Judaism. She wants all of those who feel disenfranchised to be welcomed. As a female rabbi, who is openly gay, she has been pleased that Salt Lake City has welcomed her.
Rabbi Rosen: "I am who I am. I am in a relationship with a wonderful person, who I love deeply, and I think that that makes me a better rabbi."
Being one of only three rabbis in Utah, Tracee Rosen is now, as she calls it, 'a player' in the interfaith community. This too is important to her.
Tracee Rosen: "This is a community where the population at large takes religion seriously. All religions have a voice and have a voice that needs to be heard and I think this is a great place to make it heard."
Rabbi Rosen is looking forward to her first Yom Kippur in Utah. It is the most solemn of Holy Days in the Jewish calendar, beginning Sunday at sunset. It is called the Day of Atonement.
×
Most recent Utah stories