Estimated read time: 2-3 minutes
This archived news story is available only for your personal, non-commercial use. Information in the story may be outdated or superseded by additional information. Reading or replaying the story in its archived form does not constitute a republication of the story.
Kim Johnson ReportingTiming was everything for Brian Hale's good fortune. In fact, it couldn't have been better for the national guardsman who was suddenly granted leave a couple of weeks from the national guard's 142nd military intelligence battalion in Iraq.
The first big surprise of Brian Hale's military leave was the fanfare to which he arrived in Pleasant Grove.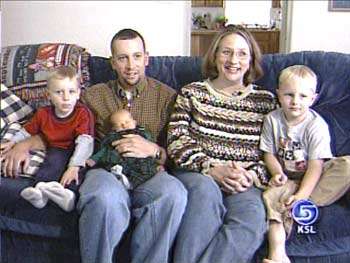 Brian Hale, Nat'l Guardsman on leave from Iraq: "Cub scouts and scouts all in their uniforms. I drove up and there were American flags lining our street and they saluted our vehicle as we pulled up. It was great. They had the national anthem playing out in our front yard. It was pretty sweet."
Sweet surprise number two? The sooner-than-expected arrival of Brian and April's third boy.
Brian Hale: "And then the next day he was born, twenty-six hours after he walked off the plane. We weren't home very long before all this kind of climaxed so it was a good surprise. Couldn't have asked for better timing."
April says she hoped Brian would get to see his new son come into the world, but certainly wasn't counting on her husband's impeccable timing.
April Hale: "Maybe July, or September or October. I mean there has always been hope that maybe he would make it. But by the beginning of September I was thinking it's not looking good and I need to get myself ready to do this, you know on my own."
April Hale: "We've just been enjoying being together as a family and just having him home. And being as a family, being normal again for a minute you know."
Brian says his initial leave was only for 10 days. It got extended allowing for surprise number three…
Brian Hale: "About three or four days before we came home we found out we could stay for 15 days since we would be in Iraq for a year. So I get to stay for my sister's wedding, and then we'll leave the next morning."
A birth, a wedding, precious family time--memories that will sustain him until he leaves Iraq next April.
Brian's national guard unit is helping search for weapons of mass destruction in Iraq. He says morale is improving now they know they'll be coming home next April.
×
Most recent Utah stories