Estimated read time: 2-3 minutes
This archived news story is available only for your personal, non-commercial use. Information in the story may be outdated or superseded by additional information. Reading or replaying the story in its archived form does not constitute a republication of the story.
Susan Wood ReportingFor 19 years straight, women are picking up valuable information at the annual Utah Women's Conference. The event has featured some very prominent speakers, such as the late Erma Bombeck, and Eunice Kennedy Shriver, Mary Tyler Moore and Henry Kissinger. This year, women get some career advice from the nation's top labor expert.
This year, the US Secretary of Labor gave some key advice on the job market for women. Secretary Elaine Chao has valuable guidelines on finding a good job and making sure you're getting paid a fair salary. Women from all walks of life are learning today how to get a better job with better pay. According to Labor Secretary Elaine Chao a lot of our success depends on our assertiveness.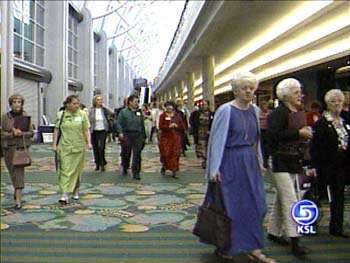 Sec. Elaine Chao, Department of Labor "I think women have to learn how to negotiate better and how to ask for raises better."
Secretary Chao uses an example from her job as a manager. " I would give a very good raise to a guy and the guy would look at it and say that's ok. I give the same raise to a woman and the woman would say thank you, thank you, oh thank you so much."
She says it's a socialization issue that many women need to change.
Sec. Chao: "Women need to negotiate better. We need to be more forceful when we ask for promotions. It's usual for men to come up to me and ask for promotions. I don't have that many women being as aggressive doing that."
Secretary Chao tells women where to look for opportunity. She says women should consider healthcare, education and construction, to name a few professions. These are careers where skilled workers are in demand. She says opportunity comes to those who look for it and believe they'll get it.
Secretary Chao came to America with her six sisters when her parents sought the land of opportunity. They sailed here on a freighter, and lived in a one-bedroom apartment when they arrived. And they hardly spoke English. So she's a real example of what determination can do.
×
Most recent Utah stories