Estimated read time: 2-3 minutes
This archived news story is available only for your personal, non-commercial use. Information in the story may be outdated or superseded by additional information. Reading or replaying the story in its archived form does not constitute a republication of the story.
Jed Boal reportingIt's primary election day in Utah as voters head to the polls.
We're talking city council and of course other races today.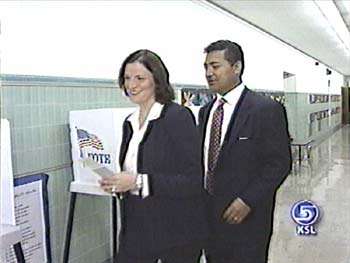 But, perhaps the biggest face-off in the state is the Salt Lake Mayor's race.
The race for Salt Lake City mayor has certainly generated a lot of coverage in recent weeks, and seemed to stir a lot of interest. But right now, the county clerks office says the turn-out is lean, as of 10 a-m, less than six percent.
Each of the top three candidates went out to vote early this morning, and urged everyone to cast a ballot. With so few voters, Mayor Rocky Anderson reminds everyone that each vote carries a lot of weight.
Challenger Frank Pignanelli urged his supporters to help make a change.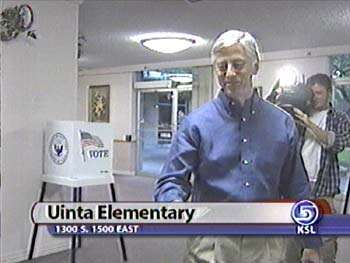 Generally, in a primary about 25-percent of those who are eligible cast a ballot...right now porjections are less than 20-percent.
Political newcomer Molonai Hola says he has confidence in his support. The top two vote-getters today square off in the November General Election.
Rocky Anderson/Salt Lake City Mayor: "I THINK WE'VE GOT A GOOD SOLID BASE OF VOTERS, BUT I DON'T WANT ANYBODY TO GET OVERCONFIDENT...I WANT TO MAKE SURE EVERYBODY GETS OUT AND CASTS THEIR BALLOT TODAY."
Frank Pignanelli/Candidate for SLC Mayor: THIS HAS BEEN A REAL GRASS-ROOTS EFFORT. WE'LL SHOW THAT YOU CAN BE IN A GRASS ROOTS CAMPAIGN AND STILL DO VERY WELL AGAINST A HALF-MILLION DOLLAR MEDIA BOMBARDMENT."
Molonai Hola/Candidate for SLC Mayor: "WE'RE ONLY THREE POINTS BEHIND FRANK AMONG THOSE WHO ARE DEFINITELY GOING TO VOTE...SO WE MAY HAVE A CHANCE."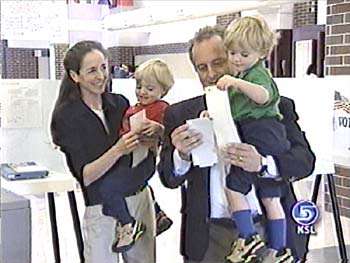 Each of the candidates is offering rides to the polls, no matter how a person plans to vote. Call their campaign headquarters for details.
Polls are open til eight, the county clerks office hopes turn-out picks up as the day goes on.
×
Most recent Utah stories