Estimated read time: 2-3 minutes
This archived news story is available only for your personal, non-commercial use. Information in the story may be outdated or superseded by additional information. Reading or replaying the story in its archived form does not constitute a republication of the story.
John Hollenhorst ReportingDairy farmers who filed a 100-million dollar lawsuit against the Intermountain Power Plant have touched off a high-stakes battle. As we first reported Sunday night, the farmers believe stray electricity in the ground is killing their cows.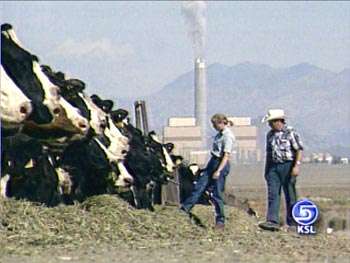 It's two-dozen businesses against one. But that's two-dozen Davids, family dairy farms, against one Goliath, the Intermountain Power Plant. A brand-new economic report shows IPP clearly makes a big footprint on the State of Utah.
Jan Crispin-Little, Univ. of Utah Economist: "It could, that plant could account for over 5,000 indirect and induced jobs, easily. "
The family dairy farmers near IPP are relative newcomers. They moved their herds from places like Connecticut, Texas and California, where urban pressures forced them out. Millard County welcomed them.
Maria Nye/Dairy Farmer: "The county had a dairy relocation program eight to ten years ago. That's how we got here."
Mike Cherniske, Dairy Farmer: "Financially we took a real leap of faith."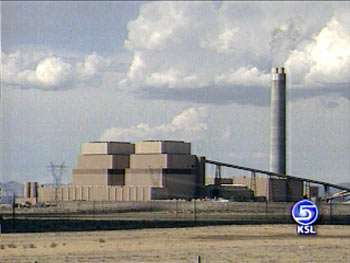 That faith has been tested by sickness and death in the herds. At some farms cows are dying by the hundreds each year. The farmers claim it's caused by stress from electrical currents running through the ground from the power plant. Utah State University veterinarian Clell Bagley says there may be something to it, although he's not convinced yet.
Dr. Clell Bagley, Utah State University: "Cows are about 25 times more sensitive than humans to electrical current."
He says scientific studies are mixed. But there is some evidence electrical shocking can put cows off their feed and water and lead to health troubles.
Dr. Clell Bagley, Utah State University: "If a cow were under continuous stress or intermittent stress continually, that becomes a real factor for them."
The Nye family says they don't feel betrayed about being recruited to Utah.
Maria Nye, Dairy Farmer: "I can't imagine anyone doing this on purpose. Why would you do that?"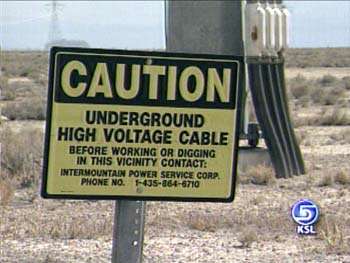 The farmers say the power plant has been great for the economy, but it needs a technical fix to co-exist with its new neighbors.
John Nye, Dairy Farmer: "If it's possible for a resolution, I don't know. But if we can put a man on the moon, it would seem like this ought to be something that's resolvable."
IPP officials aren't commenting publicly; they're saving it for a David and Goliath showdown in court. A Los Angeles judge is considering a motion by the power agencies to dismiss the case in California and move it to Utah.
×
Most recent Utah stories