Estimated read time: 1-2 minutes
This archived news story is available only for your personal, non-commercial use. Information in the story may be outdated or superseded by additional information. Reading or replaying the story in its archived form does not constitute a republication of the story.
Sammy Linebaugh ReportingMore than four thousand people made the trek south this past weekend for the 27th annual St. George marathon. Among them was a Sandy family who, you could say, skew the demographics of the race just a bit.
What could possibly draw all these people in the pitch black of early morning to a remote highway in Southern Utah? The opportunity, the privilege, to run what's considered one of the ten most scenic marathons on the planet.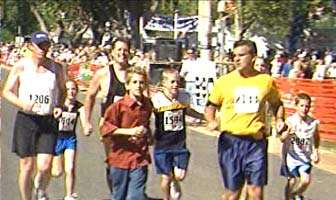 Clay Moss, his ten year old sister Haley behind him, plus Missy, Hayden and dad, Alan Moss, had a goal, to run the 26 miles together in under five hours. They've trained for months, like most there, who for the next several hours shared the road weaving through small towns and red rock. They are 18, 13, 10 and eight. Yes, an eight-year old was at the starting line. The first grader and his family were determined to find the finish.
This year people came from 48 states and nine countries to run the St. George marathon. But few got the reception of the eight-year old kid and his family who ran all 26 miles together.
Four hours 47 minutes, well under their goal, Alan, Missy, Hayden, Haley and Clay made it.
Clay Moss, Eight Years Old: "It felt really good when they were cheering, and it made me feel more like I could do it."
Missy Moss, 18 Years Old: "Sometimes I felt like Clay was older than I was, just because he was so strong out there."
Hayden Moss, 13 Years Old: "I'm way proud of them. So amazed at them."
×
Most recent Utah stories