Estimated read time: 1-2 minutes
This archived news story is available only for your personal, non-commercial use. Information in the story may be outdated or superseded by additional information. Reading or replaying the story in its archived form does not constitute a republication of the story.
Jed Boal ReportingIn four years TRAX has steadily expanded ridership and its service area. But TRAX not only contributes to public transportation, it contributes to public art.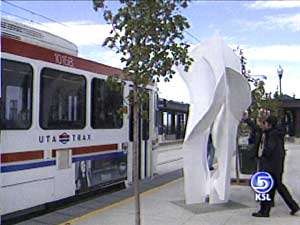 More than 20-thousand people ride TRAX daily. Most probably never stop to study the art found at eighteen of the 23 station platforms. The three newest stops on the Medical Center Line have pieces of art conceived on campus.
Four art students were selected to create pieces for the new stations. None of them are professional artists, yet, so it was a big opportunity. In his colorful creation at the South Campus Station Bernie Johnson portrays the community of the University connected with Salt Lake City individuals coming together. Johnson says it was a chance for the artists to leave something with their school.
J. Bernie Johnson, Artist: "They're going to be here for a long time. They're strong, they're sturdy; and I hope to be able to visit them and bring my children up here. This is where I went to school."
The art links Fort Douglas and the University of Utah, history and the future, lessons learned and future hopes.
Cody Dingus, Artist: "We wanted to make our art piece articulate that juxtaposition between the new and the old and the past and the future."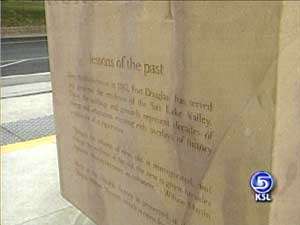 Jimmy Nielsen, Artist: "When we were unloading them off the truck, it was just so exciting to see our actual work be built and put on display like this."
The public art is a chance for people to take notice of something they wouldn't normally see, as part of the federally funded Art in Transit program.
×
Most recent Utah stories