Estimated read time: 2-3 minutes
This archived news story is available only for your personal, non-commercial use. Information in the story may be outdated or superseded by additional information. Reading or replaying the story in its archived form does not constitute a republication of the story.
Jill Atwood ReportingThe window is almost always open--11 hours a day, seven days a week, 365 days a year. The Good Samaritan program at the Cathedral of the Madeleine does not discriminate, but lately its volunteers have noticed a big increase in demand. They say it's largely due to our struggling economy.
Almost 19-thousand sack lunches were passed out just in the month of August. That's the most ever. You go to the window, you ring the bell, you get a meal -- no questions asked. The menu is the same everyday with bologna, cheese and mustard on white bread, and a few pretzels or chips to make it complete. It's not fancy, but it's free.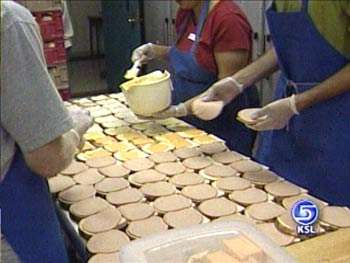 Reverend Joseph M. Mayo, Cathedral of The Madeleine: "Many times you see families pull up with small children because where rents are high and expenses have been stretched to their limits there is sometimes very little left for food."
The Program runs almost solely on donations and the generosity of volunteers from the window watchers to the sandwich makers.
Ivette Vickery, Volunteer: "It's very rewarding. You get to put a face to the lunch that I make everyday. I get to meet a lot of our regulars."
Reverend Joseph Mayo says many times they'll provide three meals a day to someone down on their luck, and he says he can tell for some taking a hand-out isn't easy.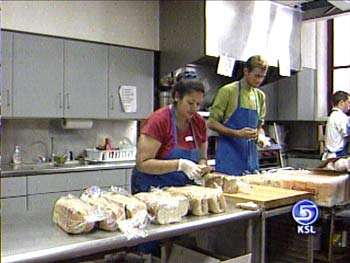 Reverend Mayo: "The way people have lost jobs in the last three years is just incredible. So those are the people that come with great pride in their own lives, but they have to eat during the day so they come here."
But with the increase in demand comes the concern of "how do we keep up?" More volunteers, more donations and more unconditional kindness.
Volunteer: "When I walk out the door at five o'clock, I look behind me and I think, 'ya know look what I did today', and I feel this way every time I leave."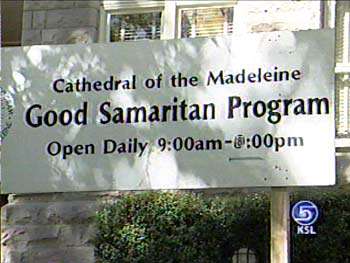 Next week is the annual fundraiser to raise the money that makes the program run from year to year.
For more information, you can call Laurel Dokos-Griffith, the development director at 801-328-8941.
×
Most recent Utah stories