Estimated read time: 2-3 minutes
This archived news story is available only for your personal, non-commercial use. Information in the story may be outdated or superseded by additional information. Reading or replaying the story in its archived form does not constitute a republication of the story.
Samantha Hayes reportingPolice say they are seeing it over and over--shredded phone lines outside banks and credit unions where thieves are trying to break in.
Salt Lake City police are asking for your help in identifying whoever is responsible for a recent rash of burglaries.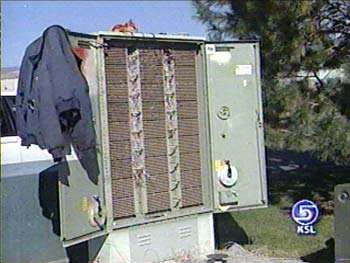 Four hundred phone lines inside a box all were cut early Monday morning before the Intermountain Credit Union was burglarized.
Police say thieves didn't get away with much, just pocket change, after breaking into the credit union off Pioneer Road at 1750 South. But in the process, they caused thousand of dollars in damage for the phone company.
Ken Earl/ Qwest Technician: "They'll get in, take the lid off of it and cut the cable right off."
Police say thieves are cutting these phone lines in an attempt to disable alarm systems. But that's not always the effect."
The burglar alarm is off, but the phone company is alerted when the lines are cut.
Dwayne Baird/ Salt Lake City Police Dept.: "Essentially you are taking the alarm from the credit union and making an alarm system for the entire region of the area, wherever the phone lines have been cut."
Police say this has happened several times. For instance, in July three Salt Lake area banks were robbed in the same week. In one case, the thief rammed his vehicle into a phone box outside a credit union before breaking in.
Just last month, hundreds of Salt Lake City businesses lost phone service when vandals ripped out a phone box at 2200 West and California. Police still don't know for sure, but suspect the vandals intended to steal something.
Dwayne Baird/Salt Lake City Police: "For the same reason: Where they are doing a bank or credit union burglary, individual or individuals cut the phone lines to go into the bank or credit union, and it's become a problem."
Police believe the same person has been at work here, and ask the public to report anything suspicious, especially at night.
These lines are repaired. Most were business lines and many weren't in use because Monday was a holiday.
×
Most recent Utah stories